Students, are you preparing for GRE? Searching for best applications which will help you in GRE?
As you know, after 12th standard, there are a number of competitive examinations in which you can appear, for scoring good marks and getting admission in the field and institute you want to.
Many students are there who take the drop after 12th standard and give all the time and efforts for preparing for such kind of competitive examinations. Some of them even target foreign countries for pursuing their career. For getting admission in best institutes of different countries you need to crack the cut-off score through which you can become eligible for these two institutes.
Today we are going to look at Top 10 Free Apps to Prepare for GRE Online, but before that, we will look an introduction about GRE.
About GRE?
GRE stands for Graduate Record Examination. The examination was first conducted in the year 1949 by Educational Testing Service (EST). The main motto for conducting this exam is to check a students' knowledge, verbal reasoning, quantitative reasoning, analytical writing and such things.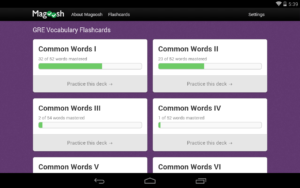 Students who get admission through GRE, have amazing communication skills, knowledge, personality and their mind is creative in such a way that they are eligible for making the best choices for their career.
Let us now look at the applications which are required for preparing for GRE.
Top 10 Apps for GRE?
GRE Prep & Practice by Magoosh: Thousand of students have downloaded this application as it provides all the guidance related to GRE covering all the major concepts. It includes practice questions related to mathematics, verbal practice is there, if you want to test yourself you can attempt the 40 questions which are included as a trial. If you downloaded the full application by paying the premium amount, you will be able to learn more than 1000 questions included in the app.
Apart from these, the application also has 70 video lessons, more than 200 videos in the premium version and number of GRE Sample question explained.
Various articles are there which you can refer for getting the tips related to how you can prepare for GRE.
Manhattan Prep – GRE: Consider as one of the best application for preparing for GRE. It has more than 1000 question, more than vocab words are available, a number of practice questions are there which you can attempt for practice.
You can check your progress by giving practice test and quizzes which are included in the application. More than 100 of formulas are there which you have to learn for solving numerically.
GRE AWA: AWA stands for Analytical Writing Assessment. It tests the students' critical thinking power and helps to improve it. Many students have already downloaded this application and preparing for that application. Download this application and start preparing it.
Painless GRE: Complete guide including GRE word questions with a number of examples, multiple exercises which you can attempt for practice. You can find the similar exercises on a various website if you want to do more practice. You can view your record for testing your knowledge, how much you had learned so far. It is an easy language application so students can understand the concept easily.
Vocabulary for GRE: Want to improve your vocabulary skills? Then, download Vocabulary for GRE application on your device and start improving your vocabulary skills with it. It includes more than 4000 words which you can learn and see the improvement in yourself. You need to practice on the daily basis for best results.
GRE flashcards: The application is the little bit similar as Vocabulary for GRE. The GRE flashcards application includes more than 4000 words with their meanings and sentence formation. A number of levels starting from easy level up to difficult level are there. This is a very beneficial application for students who are currently preparing for GRE.
Barron's 1100 for GRE: The application includes a list of flashcards, words, and number of quizzes. You will learn how to form sentences using different words with meaning. You can select the set as per your choice and learn. If you find some word is interesting or you are having doubt in that word, you can mark that word as a favorite and view it later. But make sure you refer it because each and every word is important for learning purpose. You can also set a reminder which will remind you that now it is time to study. So, it is an amazing application to download.
GRE Test Prep by Galvanize: With explanations of all the concept, the application includes more than 100 questions which you can practice. There is a GRE Score predictor which will predict your score based on the exercises or quizzes which you will attempt. It includes concepts like Reading comprehension, Text completion, sentence equivalence, numeric entry and much more concepts related to GRE.
You can also attempt the live online classes, self-paced online courses for more preparation.
Pocket GRE Math: Solve more than 1000 mathematics question and be a master of mathematics with all the formulas and concepts clear in your mind. The application includes 19 different topics which you can prepare, different levels are available starting from easy to hard. Many students have downloaded this application and finding it beneficial. It is recommended to download this application if you are looking for maths sums specifically.
GRE Pixnary: Learn from pictures and improve your vocabulary skills.

I hope these applications will help you in a preparation of GRE. Anyone can download the application for improving vocabulary or English. It is not mandatory that only students who are preparing for GRE can download it.
We wish you ALL THE BEST for all those examinations in which you are going to appear. We hope you score good marks and get admission where ever you want.
If you are preparing for GRE then you must download these applications. The applications are very helpful.
Whether you're aiming to learn some new marketable skills or just want to explore a topic, online learning platforms are a great solution for learning on your own schedule. You can also complete courses quickly and save money choosing virtual classes over in-person ones. In fact, individuals learn 40% faster on digital platforms compared to in-person learning.
Some online learning platforms provide certifications, while others are designed to simply grow your skills in your personal and professional life. Including Masterclass and Coursera, here are our recommendations for the best online learning platforms you can sign up for today.
The 7 Best Online Learning Platforms of 2022