Are you interested in learning about Geography? What our earth has? Nature, wildlife, air, atmosphere, forest, under the earth, sea and so many things? There is a channel named as "National Geography" channel which is famous for telecasting the programs related to earth. It shows us different amazing places on Earth. What is contains? How did it develop? Why do people not stay there? How are the atmosphere and such thing?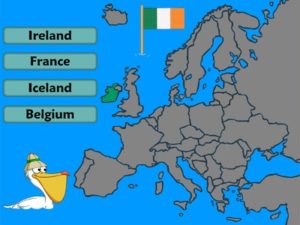 Do you know what Geography subject actually contains? Geography is basically a subject which includes study about various creatures on earth, human activity, and much more things. O.N.G.C in India is one of the best company who works on geography by studying the movements inside the earth, atmosphere, weather and so on.
You must be knowing that Geography has two more categories: Physical Geography and Human Geography. In physical geography, you can gain knowledge related to cartography whereas in human geography you can study about agriculture, economy, population distribution and so on.
If you have completed the degree from the geography background, you can apply for various jobs like a cartographer, environmental consultant, landscape architecture, Market Researcher, nature conservation officer, tourism officer and much more.
Today we are going to look something related to that only. We are going to look at the Top 10 Free Apps to Learn Geography Online.
Geography Learning: Download Geography Learning application on your device and start learning it. It is an amazing application which kids will surely love. New levels are updated every time so that you can gain more and more knowledge. You can study about a various number of concepts like information about Countries, Capitals, Flags, Physical Maps. There is a game mode having 4 parts of difficulty levels which you can select as per your choice. After completing the game you can compare your result with other users and get an idea of where you need to improve. Another mode which is included in this application is the Practice Mode. In Practice Mode you cannot play the game but you can study about countries and capitals.
World Geography: Love geography subject? Want to learn more about earth? Download World Geography application on your device. It is an amazing application containing more than 6000 questions, 4 levels of difficulties, more than 1500 images, information about 375 territories and much more things to educate you. It is a quiz application which has been developed to improve people knowledge regarding world geography.
World Map Quiz: Are you sure you know about all the countries in this world? Ready to take up the challenge? Download World Map Quiz application on your device and challenge yourself by answering the questions given in the application. If you are not knowing any answer don't feel bad. With attempting the quiz questions you can study about various countries also. So, download this application and enjoy.
Geography Quiz Flags Capitals: You need to pay the required amount if you want to download the version of Geography Quiz Flags Capitals. The full version contains more than 700 questions where as the free version contains only 200 question. So only limited questions will be there which you can attempt. If you really want to learn about Geography Quiz Flags Capitals, then, I recommend you to download the full version. It is a very beneficial application with which you can improve your knowledge of Geography. It includes various topics on capitals, flags, maps, extremes and much things.
Learn Geography of Australia: Want to learn more about Australia? Download Learn Geography of Australia on your device and get knowledge regarding various cities, rivers, regions located in Australia.
GEOgraphy Quiz: Test yourself, let's see how much you remember from whatever you had studied so far. Download GEOgraphy Quiz application and answer the given questions.

7. Learn Geography Puzzle Game: This is the puzzle game for those who is interested in geography. This game includes puzzle of Space, Planets, and Continents and it includes 7 puzzles. This is the interesting game to learn geography.

Geography Memory HD: If you are interested in learning geography and wants to get knowledge about Countries in the world this application will be useful for you. In this game, as you complete one level next level will be hard and interesting.
Geography Challenge: This game is the fun game and related to world geography. In this game, there are 12 levels which include the location of different categories and these categories are World Cities, Capitals of the world, Famous Spaces.
World Geography Quiz Game: Download world geography quiz game, it is one of the best application downloads by a number of students. This game includes questions and answer related to geography. You can also play this game with your friends and challenge them. By playing this game one can able to test your knowledge about geography information.

Download these applications and start studying about Geography. Apart from these, there are lakhs of concepts which you may not find in the applications listed above. So, keep visiting other websites for gaining best knowledge about geography. Teach your friends, students, and kids. Spreading knowledge is fun, it helps you in many ways as well as the knowledge of other people is also improved.
Whether you're aiming to learn some new marketable skills or just want to explore a topic, online learning platforms are a great solution for learning on your own schedule. You can also complete courses quickly and save money choosing virtual classes over in-person ones. In fact, individuals learn 40% faster on digital platforms compared to in-person learning.
Some online learning platforms provide certifications, while others are designed to simply grow your skills in your personal and professional life. Including Masterclass and Coursera, here are our recommendations for the best online learning platforms you can sign up for today.
The 7 Best Online Learning Platforms of 2022