Germany—while most of the mass perceives Germany to be the epicenter of Hitler's Nazi party, the country has so much more to offer. With free education on its platter, Germany serves to be one of the most significant learning centers where students from all around the world migrate to study. The country is rich in culture, which is manifested through its magnificent monuments and cathedrals. The population here, besides having immense respect for tradition and ethnicity, is also very receptive towards people hailing from other cultures and nationalities, who take the toll of learning their own language, the German language. While education is no less than a blessing in Germany, job opportunities also do not fall behind. Therein lies the necessity to learn the language that reflects the glory and flavor of the Land of Blackforest.
Benefits of Taking a German Language Online Course
Here are some of the benefits of taking a German Language course online:
The fact that online courses are often self-paced and contribute to the flexibility in your timeline might seem trivial, but its impact is not negligible.
Knowing the German language is often a brownie point in your resume, especially if an organization has significant German accounts involved with maximum client interaction.
Familiarity with the language of a country instills confidence in you whenever you walk in the streets, interact with your fellow study mates or deliver presentations at work.
Learning German online not only enables you to revisit your lectures as per your requirement but also caters to your daily routine.
In case the online learning program consists of live classes with recorded sessions, there is a good opportunity to interact with your batchmates, who, in all probability, would hail from different cultures, and bingo: a variety of other languages.
7 Best German Language Courses: 2022
Here are some of the best online German language courses, any of which can enable you to develop a good command of the language and add a new feather to your cap.
1. Learn German in just 5 minutes a day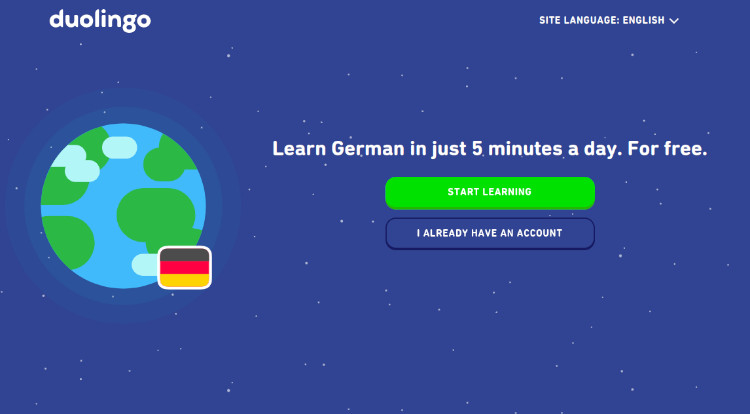 When it comes to adding a touch of the multilingual base in your profile, Duolingo is proven to be your best friend in the journey. The timeline here is beyond what we call flexible. This is because the platform claims that just five minutes a day is enough to cater to your need to learn any language. Coming to the expense angle, the Learn German in just 5 minutes course on Duolingo is absolutely free and can be accessed anytime, anywhere. The program is designed on a translational formula and is very effective in learning the language. The lessons are full of fun and equally engaging. The smooth UI of the forum is all set to take you on a new journey in learning German online.
Features:
The online forum of Duolingo offers lessons filled with interactive games. This would help you to reduce your pressure level and enjoy the process throughout.
Learning German in just 5 minutes a day might sound highly skeptical. But this makes your daily schedule a little more ductile so that you can utilize this opportunity as per your need.
No previous knowledge of the language is required to be benefited from this course.
In addition to the reading, writing, and listening skills, this course also offers activities that help you with translations.
2. German Made Simple: A Complete Course for Serious Learners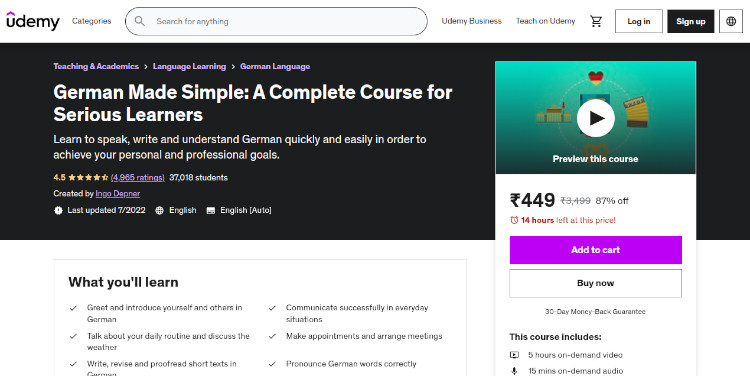 The online learning experience has gained popularity over the last decade, specifically during the pandemic situation that disrupted academics globally to quite a good degree. And this experience has brought a few names to the top picklist when it comes to choosing the right platform. Udemy is one of them, without a doubt. While there are innumerable learning programs that are objective specific, Udemy offers a range of courses: the range having both financial as well as content-based troughs and crests. The German Made Simple: A Complete Course for Serious Learners learning program on Udemy focuses more on the daily conversational skills that you need to develop in the process of learning German online.
Features:
This course offers a total of 5 hours of video content as well as on-demand audio content wherever essential. 
The course pays equal heed to daily conversations as well as etiquettes like meeting and greeting in German.
A good number of downloadable resources in the course offer printable vocabulary lists and grammar rules that can feature on your study boards.
Proofreading short texts in German also enables you to identify the common mistakes that can occur while writing and hence avoid them.
3. German through Immersive Learning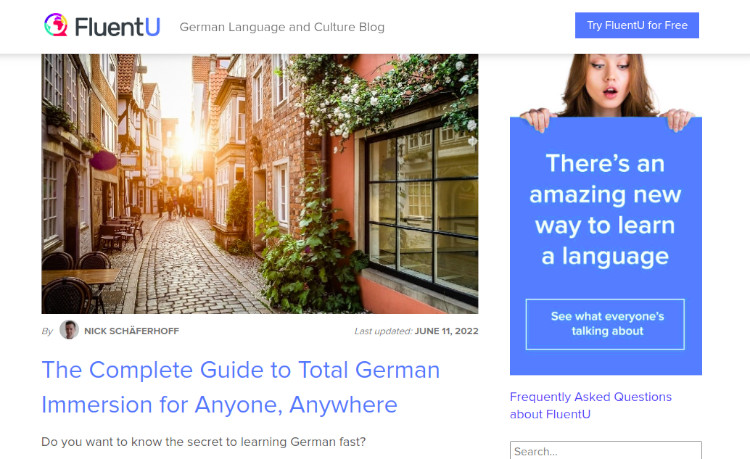 Learning from timely content can be very beneficial, be it in any language whatsoever. FluentU is an online learning platform that runs on this vision. German is a language that demands good practice. But only practice doesn't guarantee perfection, especially when language is concerned. In addition to knowing the basics and technical aspects of the language, it is also equally, rather more important to know its usage. We were often instructed to read story books in English or our vernacular in order to make our basics strong. In the same way, you need to expose yourself to the real-life contemporary content in the German language so that you have more clarity towards the usage of phrases, tense intricacies, and types which expressions used in the language.
Features:
The video clippings in the course have the perfect blend of German commercials, news reports, and movie trailers so that you get exposure to different circumstantial conversations to learn from.
The activity section is extremely important and is studded with quizzes and flashcards to make your learning path interactive.
Although the platform has monthly or annual subscription plans, they also offer a free trial period for a limited duration.
The video clippings included in the course are provided with subtitles. So each and every word can be clicked on, and instantly you can find out the meaning in English.
4. FSI German – Basic Course (Volume 1)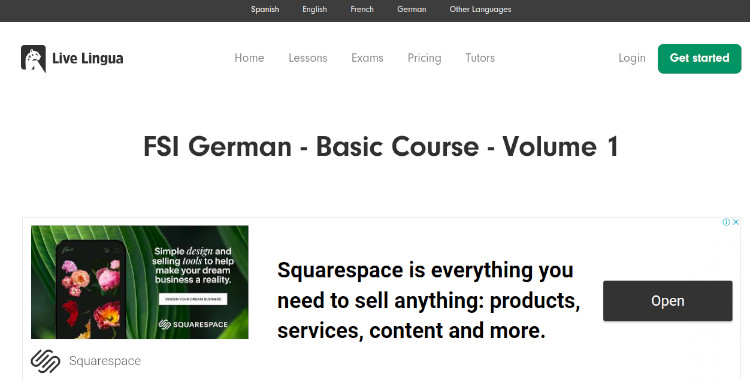 Live Lingua is one of the most efficient platforms that you can trust while you pursue your learning German online program quite seriously. This platform runs primarily on the FSI guidelines and offers a slightly different approach from other co-existent academic forums online. The primary aim here is to ensure that the participant gains a grip on the structure of the language and also builds a strong base of basic vocabulary. These aspects are quintessential in Foreign Service and are made an easy target to achieve with the help of the FSI German – Basic Course (Volume 1) on Live Lingua. In order to manage official duties and cater to social obligations, this learning program is more than enough. However, based on the interest level, the participant can also take the courses of subsequent levels.
Features:
This course offers ebooks for the trainees from the very first lesson, along with pre-recorded authentic narration so that the trainees can listen to them and practice their speaking skills.
Drills and exercises in the course will enable you to master the technical aspects of German in no time.
The learning materials are categorized into twelve units for this course. 
In addition to phonological features, this course also offers explanations and pronunciation notes in the reading materials.
5. Learn German from the Experts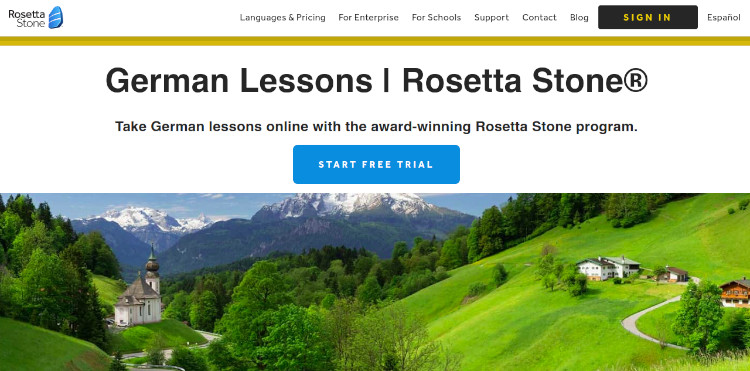 Did you know that the German language is an official language used in daily communication in many countries other than Germany itself? Well, Rosetta Stone is that online learning forum that is all set to enlighten you about the background of the language with such interesting facts before actually delving deeper into the learning journey of the language itself. While the German language ranks to be the seventh most powerful language in the world, learning it is quite easy with an intuitive approach. And that's what Rosetta Stone specializes in. Be it pharmaceuticals or the automotive industry, Germany contributes noticeably not only to the economic juggernaut of Europe but also to the entire world. Hence, learning the nuts and bolts of this widely spoken language across the globe is more than just advantageous.
Features:
Rosetta Stone concentrates more on the phonetic consistency of the German language than making it a liability to the memory of participants.
In addition to the learning program, the blogs would benefit you equally, drawing you closer to the culture of the country and the usage of the modern German language. 
Live coaching and audio recordings from native speakers are bound to enhance your learning path with authenticity.
Although Rosetta Stone has subscription plans for 3 months, 12 months, and a lifetime, they also offer a free trial period for a limited duration.
6. German for Beginners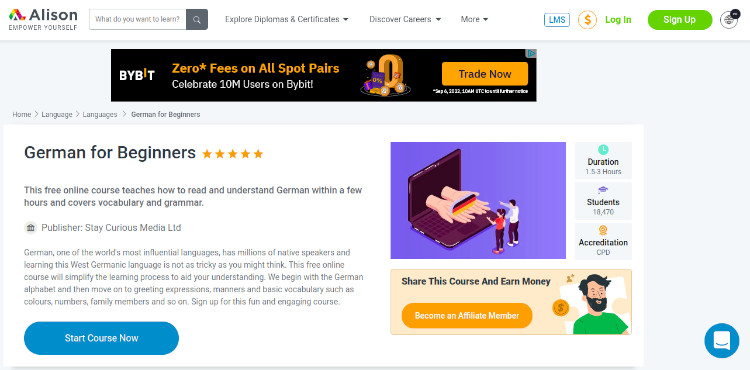 The mission of Alison is to empower yourself with knowledge and the confidence that comes with it. Learning German online has a plethora of pathways, but one of them focussing on distinction is undoubtedly Alison. The German for Beginners learning system offered on this platform not only educates you on the alphanumeric characters of the language but also introduces the depths of grammatical concepts like gender, number, phrases, group verbs, and idioms. They substantiate the lessons with apt examples through sentence-making. Little aspects like saying the time in German and identifying the days in the same would enable you to get more proximal to the official language of 6 European countries.
Features:
You will get to know German etiquette better through this program
Language is a reflection of culture, and learning a language is incomplete without identifying the names of foods, beverages, animals, and events in that language.
Just like you know the seven days of the week by their English names and their names in your native language, you would know them now in German as well.
7. Coffee Break German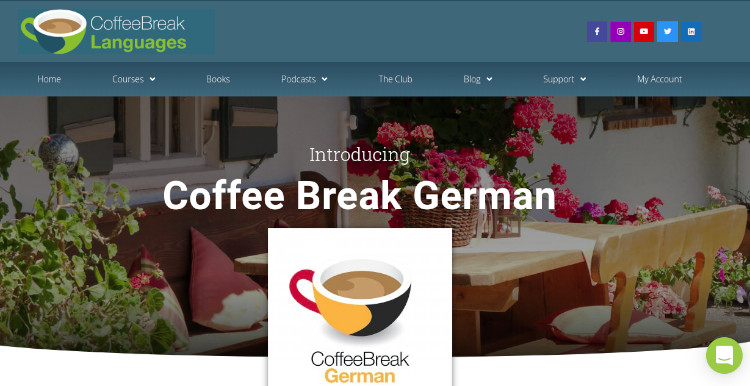 Jacobs Kronung Whole Bean Coffee stands to be one of the most delicious hot beverages in the world. But having coffee while learning the German language? Well, there seems to be nothing special about it. You can take a course online and sip your favorite coffee now and then. But what adds to the uniqueness here is the podcast. Coffee Break German is an online German learning forum that offers you to learn in the break rather than to take a break from learning. Imagine you are admiring the cathedrals and castles of Germany and at the same time thinking about how their world cup team performs with an indomitable team spirit, and just then, you get to listen to a season of the podcast. Learning on the go just came into reality.
Features:
Each season of the podcast zeroes in on leveling you up so that you enjoy the next season even more.
This learning system stealthily becomes a part of your daily life under the canopy of recreation and leaves an excellent but unique learning experience behind.
Assimilation and application of your knowledge– that's what stands to be the primary objective of Coffee Break German.
The Bottom Line
Those mentioned above are some of the best German Language courses that have gained popularity over time through trainee feedback and success rates. The idea here is not to confuse you with endless options on the platter but to enable you to identify what you require the most. So get set learning and all the best on your German Language journey that hopefully will begin soon.
Whether you're aiming to learn some new marketable skills or just want to explore a topic, online learning platforms are a great solution for learning on your own schedule. You can also complete courses quickly and save money choosing virtual classes over in-person ones. In fact, individuals learn 40% faster on digital platforms compared to in-person learning.
Some online learning platforms provide certifications, while others are designed to simply grow your skills in your personal and professional life. Including Masterclass and Coursera, here are our recommendations for the best online learning platforms you can sign up for today.
The 7 Best Online Learning Platforms of 2022