The key to success in both professional and personal life is effective communication. We frequently connect over the phone, email, in-person meetings, social media, and other channels. Several courses on the market can help you in developing good communication skills if you have trouble speaking. There is a high demand for communication skills in business. Continue reading to find the best business communication certification courses in 2022.
The 7 Best Business Communication Certification Courses
Here is a list of the best business communication certification courses for you:
1. Business Communication Skills: Business Writing & Grammar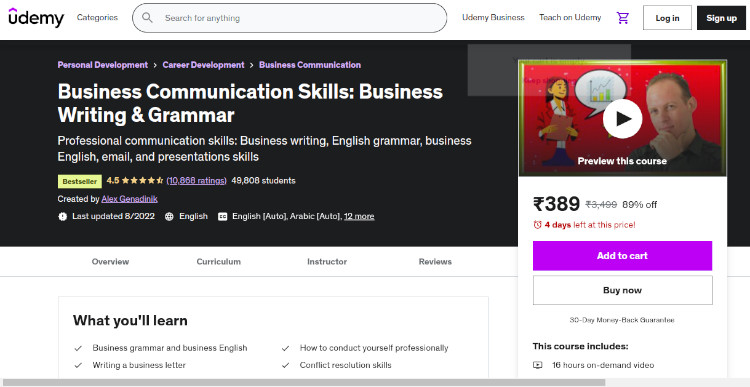 You will learn everything there is to know about business communication in this Udemy course, which will also walk you through efficient business writing, precise grammar usage, and email composition techniques. A certificate from this course will look wonderful on your resume.
Alex Genadinik, a writer who specializes in business, entrepreneurship, Amazon, SEO, marketing, and YouTube, is the instructor of this course. If you want to improve your business communication skills, you can go for this course without thinking twice. In this course, you will learn business communication fundamentals and how to write a business email correctly. You will learn proper messaging etiquette and grammar and develop crucial communication skills with coworkers and employees
The best candidates for this curriculum are both students who want to master the fundamentals of business communication and professionals who want to hone their business communication skills. This course will help you improve and enhance your business communication skills.
Course Features:
Business grammar and business English
How to conduct yourself professionally
Writing a business letter
Conflict resolution skills
Professional email communication skills
Meeting communication skills
Report writing skills
Presentation skills and creating storytelling presentations
Business proposal writing
2. Workplace Communication: You Can Speak Up at Meetings!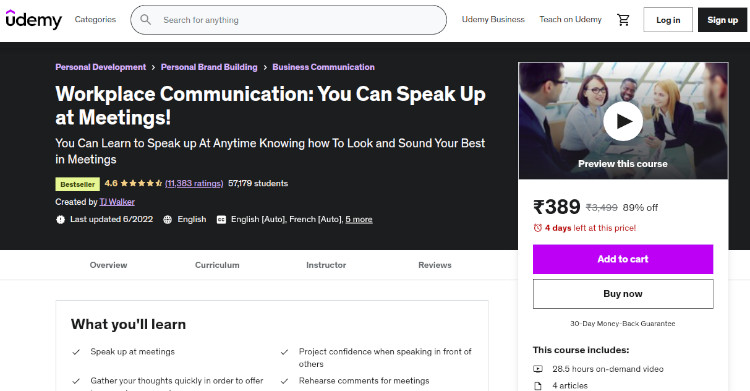 Imagine being able to speak up at any time during meetings, knowing that everyone will understand what you are saying, and be impressed by your communication skills and confidence. Wouldn't it be wonderful to have the confidence to speak up whenever you want and express your ideas with ease and clarity? With the help of this course, you can communicate effectively in the workplace.
You will learn the following skills in this course:
How to speak up at meetings
How to manage your nervousness when speaking up in meetings
How to get ready ahead of time to speak up in meetings
How to get yourself heard and understood by others
Speaking lectures make up the majority of the delivery method for this workplace communication course. Your role in workplace communication will not be solely theoretical or intellectual. It's a skill that calls for certain physical routines. You will be required to participate in a number of tasks where you film yourself speaking on camera and then watch it. Learning how to make a presentation is similar to learning how to ride a bike. To get it right, you simply need to practice it often and get past the shaking and falling-off portions.
Along with several video lectures, this workplace communication course also comes with various additional publications for your training collection.
In this course, you can speak on camera, give yourself feedback, and repeat the process until you are satisfied. This section is the longest. However, it will be worthwhile if you can perfect your presentation skills to the point that you love the way you sound and present. Additionally, this skill will enable you to reduce presentation time in the future.
Course Features:
Speak up at meetings
Display confidence when presenting in front of others.
To make fast remarks, rapidly collect your thoughts.
Prepare meeting comments in advance.
3. Business English Communication Skills Specialization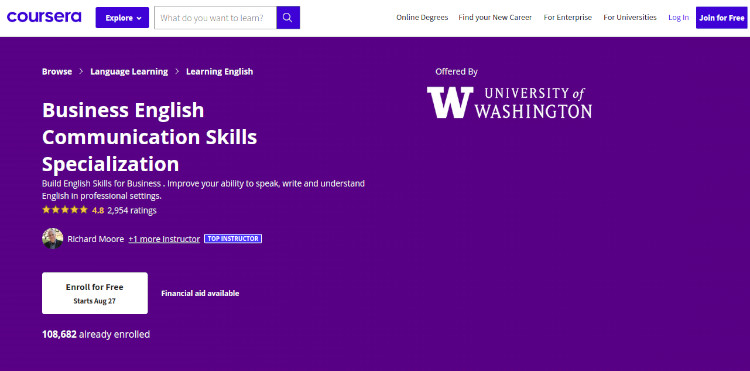 You will learn how to communicate fluently in English in professional settings through this Specialization. You will learn terminology and skill sets that you can use in business negotiations, written reports and emails, telephone conversations, and professional presentations. You will also increase your English vocabulary and improve at writing and speaking the language in social and professional settings.
Course Features:
Business English: Networking
Business English: Meetings
Business English: Planning & Negotiating
Business English: Making Presentations
Business English: Capstone Project
4. Business Communications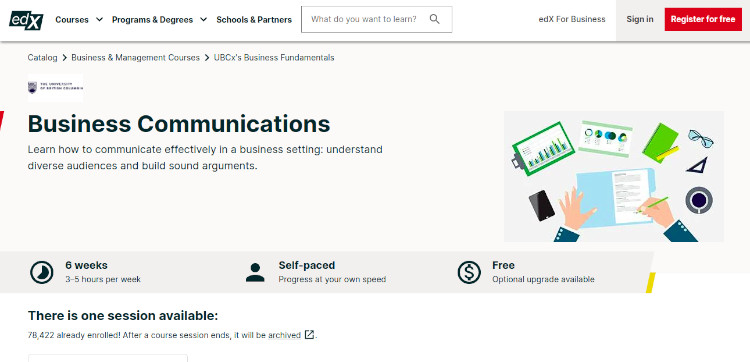 This course will teach you the fundamentals of Business Communications. You will learn valuable techniques for improving your communication skills with both professional and social individuals. After you complete the course, you will get a certificate which you can download from the official website.
Course Features:
Learn practical methods for improving your communication abilities.
Learn how to be more impactful, concise, and clear.
Strengthen your logical reasoning and business communication abilities.
Recognize the significance of interpersonal communication.
Students who want to improve their communication abilities should take this session.
5. Grow your professional communication skills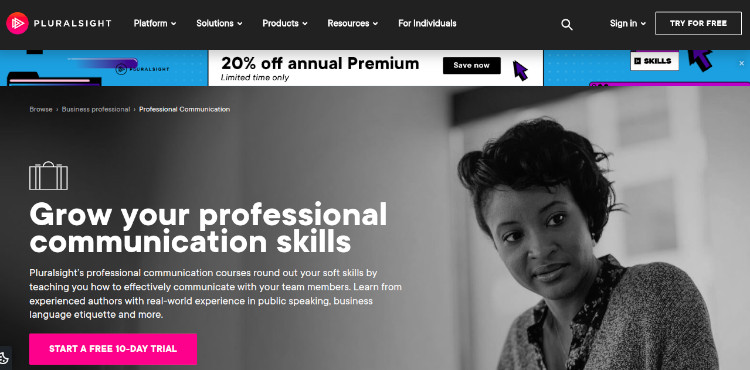 Pluralsight's professional communication courses supplement your soft skills by showing you how to interact effectively with team members. In this course, you will learn about public speaking, corporate language etiquette, and more from knowledgeable authors with practical experience.
6. Effective Communication: Writing, Design, and Presentation Specialization
Effective Communication has been used by businesses and students to communicate ideas in the workplace effectively. By enrolling in this course, you can improve your written, visual, and vocal business presenting skills. In this course, you'll learn how to create stunning presentation slides, reports, and posters and speak and present with authority. You'll also learn how to produce well-structured, understandable business papers. You will create a portfolio of work for the final capstone project to demonstrate your communication abilities and promote your brand. This portfolio will include a letter, a slide deck, and a presentation.
This Effective Communication course leads you on a self-discovery journey. You'll discover that being able to express who you are, your best self, in whatever you do is necessary for effective communication. Each course provides you with brief assignments that walk you through the fundamental ideas, planning techniques, and practical stages of creating and presenting a business presentation in front of an audience.
You'll produce a memo, slide deck, and presentation for the capstone that integrates your study and equips you with the skills necessary to convey your ideas in the workplace effectively.
Course Features:
To Write Masterfully
To Design Elegantly
To Speak Powerfully
To Present Your Ideas
To present Your Best Self to the World
7. Master the skills of TED speakers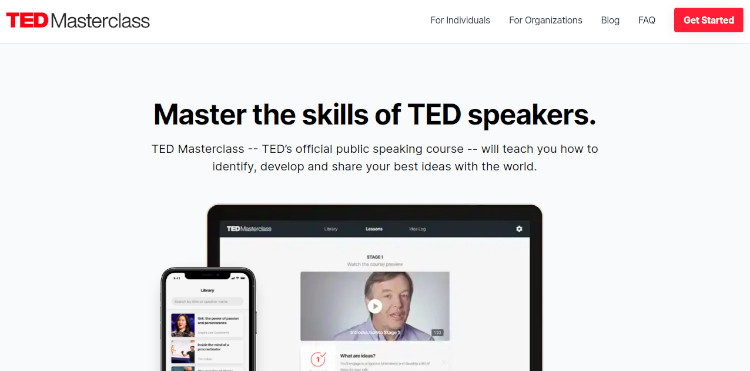 TED Masterclass is TED's official public speaking course. This is one of the best public speaking courses on the market. You will learn how to recognise, develop, and communicate your best ideas to the world in this course. This course will help you learn how to present yourself on a stage or engage in a meeting. It will help you gain confidence and leadership qualities. In this course, you will learn how to
1. Master the art of public speaking
Identify your best ideas.
Create compelling stories with them.
Present in such a way that people want to listen.
2. Become a better communicator
Make a connection with your audience.
Give more engaging presentations.
Explain complex ideas.
The Bottom Line
The best communication courses focus on teaching helpful communication techniques. These courses include fundamental and sophisticated communication skills, including public speaking, storytelling, writing, and improved listening. Starting with a list of your goals and shortcomings can help you select the perfect communication course for you. Go through the abovementioned list of business communication certification courses list and pick the one(s) according to your requirements.
Whether you're aiming to learn some new marketable skills or just want to explore a topic, online learning platforms are a great solution for learning on your own schedule. You can also complete courses quickly and save money choosing virtual classes over in-person ones. In fact, individuals learn 40% faster on digital platforms compared to in-person learning.
Some online learning platforms provide certifications, while others are designed to simply grow your skills in your personal and professional life. Including Masterclass and Coursera, here are our recommendations for the best online learning platforms you can sign up for today.
The 7 Best Online Learning Platforms of 2022