Important information with effective communication drafted in a concise format– that's what precisely email writing is. It is needless to say that email writing is one of the most popular and significant means of official or formal communication. Email writing has several components like: order of recipients, subject, salutation, body of the email, uniformity in font style and font size of the text, signature of the sender, alignment and many more. In addition to all the technical aspects, the tone of the content of the email is of the highest priority. At times, we have to write an email that delivers the message of strictness. However, in such cases, it is extremely important to remember that firmness and lack of politeness are not synonymous.
Benefits of Taking an Email Writing Online Course
Here are some of the benefits of taking an Email Writing course online:
Online courses are often self-paced and contribute to the flexibility in your timeline.
Good email writing reflects professionalism, thereby enhancing better placement possibilities
Online courses offer a wider horizon; a better opportunity to experience better exposure across the globe
Educational forums and reputed institutions from all over the world contribute in designing the curriculum for these courses, thereby grooming the participant in a better way
With more exposure and interactive problem-solving sessions, your cognitive health is bound to enhance
Communication is the key, in almost every sphere of life these days. And email writing is one of the most important means of communication that is in use till date
Professionalism and knowledge contribute to your overall confidence, which helps you to stand out amongst the mass
7 Best Email Writing Courses: 2022
Here are some of the best Email Writing online courses, any of which can enable you to develop good email writing skills and take a step ahead in the world of professionalism.
1. Write Better Emails: Tactics for Smarter Team Communication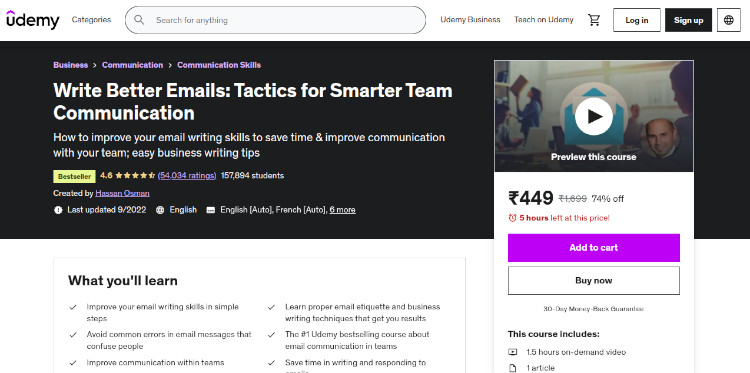 This course on Udemy is one of the best in its kind. It offers a step-by-step process to first understand your existing flaws in email writing, where you can go wrong, how to curb your mistakes, and, most importantly, look at your email from the recipient's perspective. This course also focuses on effective communication within the team. This results in better performance with more clarity and transparency. Sometimes, the rookies go very elaborative and thereby forget to highlight the primary points to be focussed on. This course ensures better time management so that a day is not spent just behind drafting emails.
Features:
You don't require any special tool to be benefitted from this course.
Email etiquette and business English– this is a two-in-one offer for all those who want to make it to the top of the corporate ladder.
This course would help to identify some errors that can be categorized as common mistakes and increase the confusion for the recipient.
Clarity is very important in communication, especially when that's in writing mode. This course focuses on enabling the learner to write emails to the point.
2. Effective Email Communication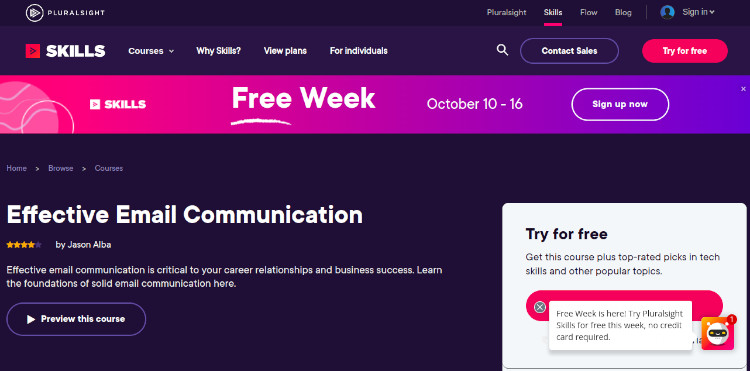 Pluralsight is another important online learning platform that presents one of the best Email writing courses. The Effective Email Communication online course on this forum is known for imparting knowledge of reliability to the participants of the course. In this course, one of the most significant things the trainee learns is how to enhance the possibility that the recipient will open the email at all. This knowledge is extremely beneficial in cases of low to high-end communication or even marketing email campaigns. This implies that when a job seeker sends an email to a recruiter or when a company sends a marketing campaign through email to its leads or existing customers if certain factors are taken into consideration, chances are high that the recipients will open the email instead of ignoring or moving it to the junk or trash box.
Features:
Learn to have a maximum impact on the recipient.
Learn to construct messages in such a way that the reader is engaged in the email.
Specify the purpose of the email in the very beginning and describe the need for it in a compact way.
Visual enhancement of the content, along with proofreading, to ensure sophistication.
3. Write Professional Emails in English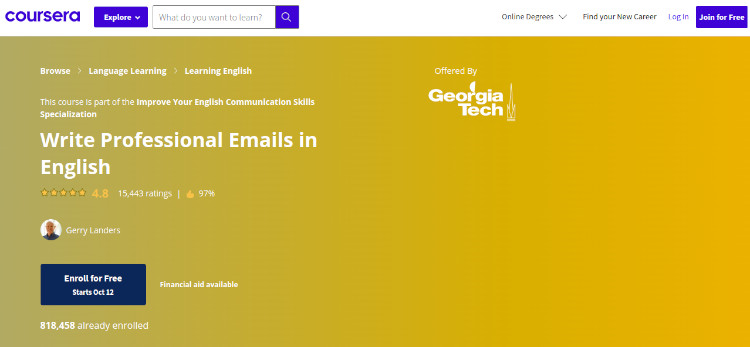 In addition to the technical aspects of Email writing, writing skills in English is a mandatory skill to develop. It is needless to say that you don't have to write Shakespearean English in emails in order to ensure seamless communication. What is important to focus on is that the content of the email must be grammatically correct. A better vocabulary will automatically enhance your business communication, but it is also vital to choose the apt words. The Write Professional Emails in English online course on Coursera focuses primarily on these aspects.
Features:
Provides deadlines that are flexible and can be set according to your schedule and convenience
The shareable certificate is of great value and definitely an added brownie point in your cv.
While email content is given more importance, this course enables the trainee to write effective subject lines as well.
Teaches better usage of appropriate keywords in the emails
Provides PDF transcripts
Provides MP3 downloads so that you can learn anywhere, any time.
4. Writing Emails by LinkedInLearning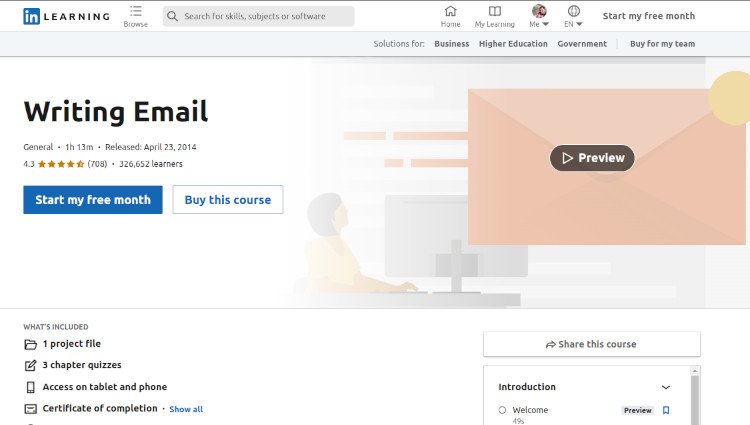 If you are already into the world of emails, calendar blocks, and online meetings, yet you want to brush up your email writing skills, but within a limited time, LinkedInLearning has got your back. This course is one of the most efficient short-term courses to take care of the unlearning of what is not needed and learning of only what is badly needed. While effective subject lines and catchphrases dominate the factors of readability, the correct choice of the intended audience still rules all parameters of good email writing and successful delivery. Writing Emails online email writing course by LinkedInLearning offers all of these to the enrolled trainees.
Features:
Master techniques for learning how to establish the purpose of the email with clarity
Choice of intended audience is significant, so much so, that the content of the email is susceptible to change with the change in audience.
While "To" is of utmost importance, the list of Carbon Copy (CC) and Blind Carbon Copy (BCC) recipients, if applicable, is also very important to understand. This course helps the trainee to understand the significance of CC and BCC in email writing.
Application of various rules and techniques to deliver impactful messages through email writing.
5. Professional Email Etiquette: How to Write a Professional Email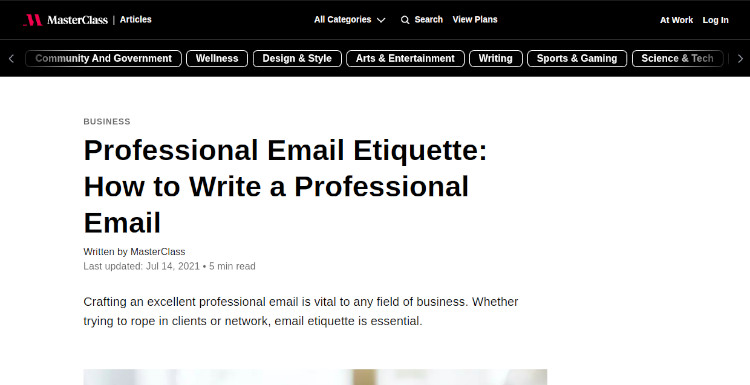 For anyone who wants to learn Email Writing and improve their skills in business English, the Professional Email Etiquette online course on Masterclass is an excellent option. In addition to video tutorials, like any other online learning platform, Masterclass helps the participant to understand the importance of each step and parameter through engaging blogs. Masterclass focuses on example oriented learning and extracting those examples out of practical situations cited by experienced professionals.
Features:
Masterclass explains how your salutation and subject line create the very first impression.
They also highlight that closing an email with a call to action whenever essential is one of the critical aspects of email writing.
A proper email sign off is as essential as the salutation, leaving behind the final mark of professionalism.
Tone of the content is of primary significance.
6. Writing Better Emails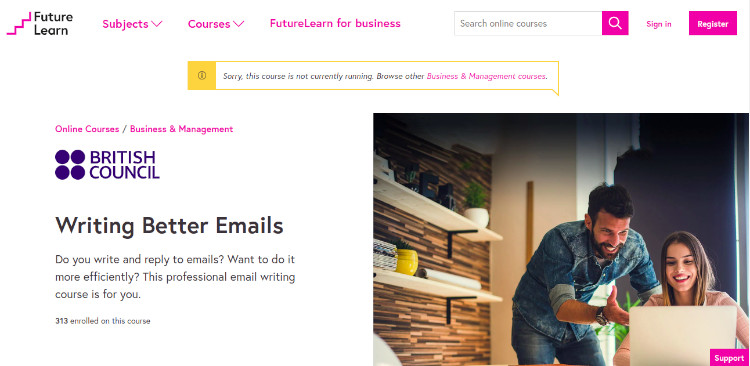 Good email writing and enhancement in English writing skills often go hand in hand. While an exceedingly ornamental word palette is unnecessary in the corporate globe, some keywords here become quintessential, often functioning more as an emblem of professionalism. The right balance can be achieved with proper training, and the Writing Better Emails online course by Future Learn is one of the most apt courses to help the rookie achieve this balance. The one factor that makes Future Learn much different from the other co-existent online learning forums is its association with the British Council.
Features:
Purpose-driven planning of emails
You need to organize the content of the email in a logical way so the reader doesn't get confused.
Audience adaptability is one of the key aspects of email writing
Keywords and phrases that reflect modern business email writing skills to assure the reader that you are at par with what's in right now
Using short, simple sentences to avoid long constructions and increasing chances of errors and confusion
7. Using Email for Networking in English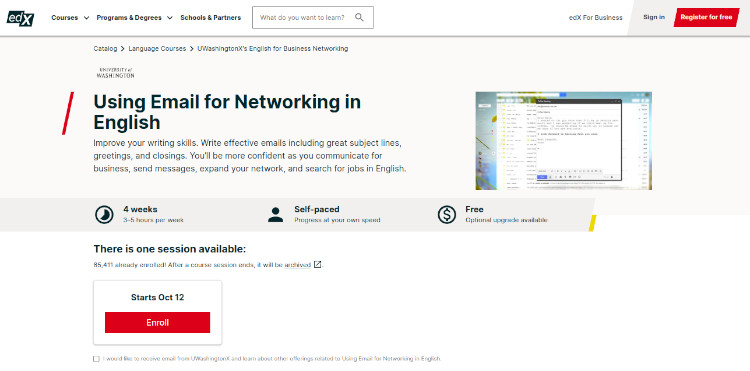 In case you are looking for email writing courses that would focus on a certain objective, then the Using Emails for Networking in English course by edx.org is undoubtedly your best pick. There are often exchanges of cold emails between job seekers and recruiters. In such cases, there must be less of beating around the bush and more direct, concise content in the emails. Although the seeker might be more on the needy end, that should be reflected in the form of eagerness through the tone of the message. But eagerness mustn't turn into desperation through email.
Features:
Compact subject lines and openings declaring the purpose of the email
To demarcate between formal and firm and impolite.
Starting and ending notes to be made impactful
Follow up emails are essential unless they reach a point of irritation for the recipients.
The Bottom Line
The above-mentioned are some of the best Email Writing courses that have gained popularity over time through trainee feedback and success rates. The idea here is not to confuse you with endless options on the platter, but to enable you to identify what you require the most. So get set learning and all the best on your email writing journey that hopefully will begin soon.
Whether you're aiming to learn some new marketable skills or just want to explore a topic, online learning platforms are a great solution for learning on your own schedule. You can also complete courses quickly and save money choosing virtual classes over in-person ones. In fact, individuals learn 40% faster on digital platforms compared to in-person learning.
Some online learning platforms provide certifications, while others are designed to simply grow your skills in your personal and professional life. Including Masterclass and Coursera, here are our recommendations for the best online learning platforms you can sign up for today.
The 7 Best Online Learning Platforms of 2022