Do you want to score a good band score in your next IELTS exam? Do you want to improve your preparation level in IELTS? Read this post until the end to find the best IELTS online course to help you crack the test with a good band score.
IELTS online courses are convenient and straightforward. The online preparation for these courses can be done anywhere and at any time, with a flexible study schedule. Furthermore, when compared to other methods, it is ideal for professionals as well as students who are juggling many exams at the same time. Continue reading to find the best IELTS preparation course for you.
The 7 Best IELTS Online Courses for Exam Preparation
Every year, millions of individuals take the IELTS test. This is where the online preparation courses come in. With so many portals/coaching institutes offering IELTS courses, it can be tough to find the proper one that can offer just accurate guidance to pass the IELTS test. However, you can read the courses in the section below and select the right one. Here are the top 7 IELTS online courses for preparation:
1. Magoosh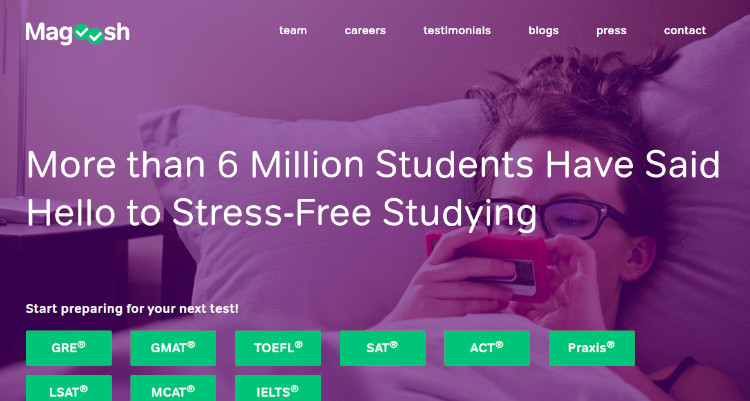 Magoosh specializes in online test preparation for a variety of crucial academic exams, including the GRE, TOEFL, SAT, GAMT, and, of course, IELTS. It provides a holistic learning environment by providing several online lessons, practice quizzes, essay scoring, learning blogs, podcasts, and even a specialized app to help you build your vocabulary. The course includes more than 90 instructional audios and videos, and 200 practice questions. It is led by Chris Lele and Eliot Friesen-Meyers, two language experts with substantial experience in language acquisition and standardized tests. Simply creating an account allows you to access online classes, practice tests, and examine your results for free; however, if you want to have your essays graded, contact an expert, or take mock tests, switching to premium is the way to go.
IELTS speaking assesses a candidate's ability to communicate in English while also looking at vocabulary, grammar accuracy, and pronunciation. Magoosh IELTS preparation includes speaking videos that help candidates learn how to speak smoothly by reading cue card topics. There are also IELTS speaking component explanation videos, which have helped applicants obtain an 8.5.
Magoosh has been praised for showing reading problem trends observed on test day, and the large number of questions targeted on each IELTS reading question type is another advantage. Students are given lessons, talks, and stories to increase their reading skills to improve their reading ability.
Features
This course is free for the most part.
This course has 200+ practice questions to help you track your progress
It has mock test series to improve your preparation
You can find English comprehensions and new words.
It has a plethora of additional learning resources
You can get a tutor whom you can ask your doubts
This course provides a 7-day money-back guarantee.
2. edX
edX provides a variety of massive open online courses in a variety of areas. Taking edX's course is one of the finest ways to prepare for IELTS exams. Throughout the curriculum, you will study the test procedure, format, tactics, and skills for IELTS tests. The course lasts 8 weeks and needs 5 to 10 hours of work every week. You can prepare for the test at your speed while also improving your English skills. The course concentrates on the four key components of IELTS, listening, reading, writing, and speaking. It is taught by five University of Queensland language experts.
Features
The course is free
You will find a detailed and step-by-step guide to curriculum
Top-class experts from foreign universities will guide you
3. British Council: Understanding IELTS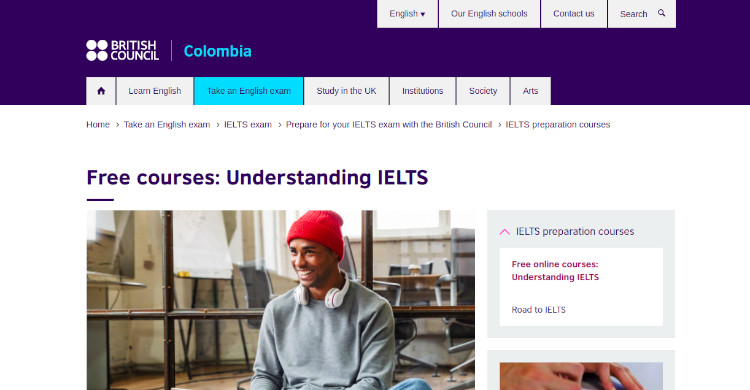 Understanding IELTS is an online course provided by the British Council for all IELTS preparing candidates. The course will guide you through the 4 IELTS stages of speaking, reading, writing, and listening. From their video lectures and a team of IELTS experts, you will gain essential insights, information, and skills on how to approach the exam. You can also get your English speaking and writing skills evaluated by other students. It is mainly taught by Allister Widdowson, who has more than 20 years of experience teaching English and now works with UK institutions on teacher training, online courses, and other projects.
Features
The course is free
Great introductions to the IELTS exam
It is developed by the British Council
It has useful tips and advice for the test
Opportunity to have your work evaluated by other students
4. Udemy: IELTS Band 7+ Complete Prep Course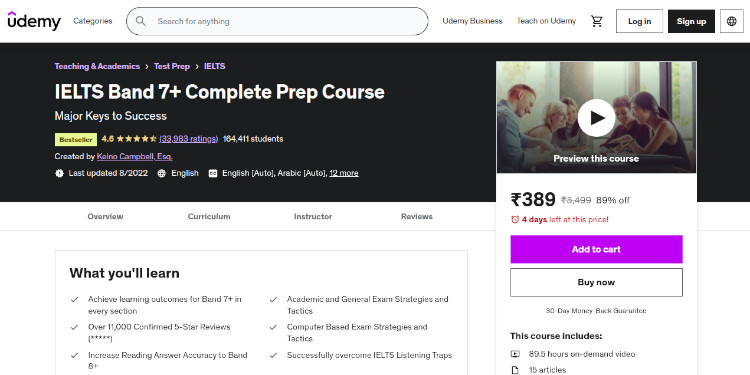 Udemy is known for its high-quality online exam preparation courses. The Band 7+ Complete Prep Course is one of the most popular IELTS exam preparation courses. This course includes 160+ lectures and 30+ hours of information to teach techniques and tactics for each of the 4 IELTS sections. You will have access to worksheets, writing guidance, speaking recommendations, and peer reviews in addition to teacher-led courses. The emphasis on test skills and approaches developed from an in-depth analysis of the IELTS exam is among the course's primary selling points. It can play a significant role in helping you familiarise yourself with the test structure and earn high marks.
Features
Provides a strong emphasis on exam methodologies and strategies.
It has 36 hours of video lectures, 15 articles, and 32 additional materials
Courses designed by a well-known organization and IELTS specialists
5. Udemy: Mastering IELTS Writing: Task 2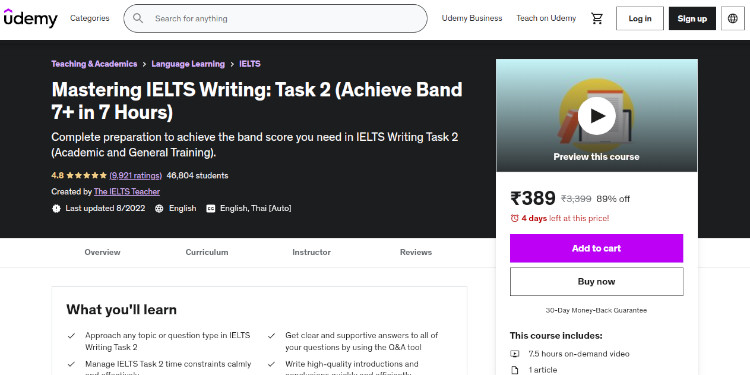 This is another excellent Udemy course that concentrates on the writing aspect. Considering that most learners struggle to achieve high writing exam results, it is prudent to consider choosing a particular course to improve your writing skills. This is a course designed to help you comprehend how the IELTS writing test is constructed and how to approach it. You'll learn how to organize your responses to any type of question and apply secret formulas and time-saving methods.
Features
In-depth knowledge of the IELTS writing part
Tips, tactics, and techniques for drafting the best possible answer
The curriculum is well-organized to help you perform well on the writing exam
6. IELTS EDGE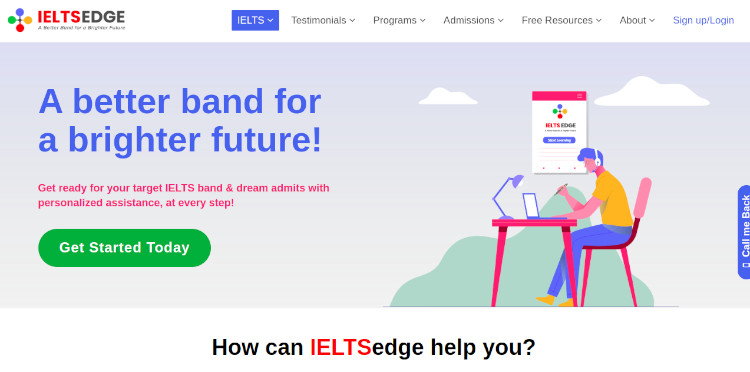 IELTS EDGE is an online tutoring platform with over ten years of experience that offers individual support to help you achieve your goals. They provide access to custom-built word learning apps where IELTS experts may monitor your progress and provide comments via phone conversations. They also regularly update their site with free resources, including downloadable eBooks, articles on IELTS exam tips and techniques, and online webinars. Furthermore, the course contains full-length test papers, writing exercises, fundamental grammar refinement sessions, and methods. The registered users are assigned a personal SPA and trainer. It also includes 20 audios to help you enhance your speaking skills.
Features
In this course, you will find a personal SFA and a speaking experts team
It has LIVE 1-on-1 Speaking sessions
You will get personalized feedback in all the sessions
It has audio-supported speaking sessions
It has reading sessions to practice with detailed personalized and evaluation feedback.
You will get IELTS full-length tests.
7. IELTS Material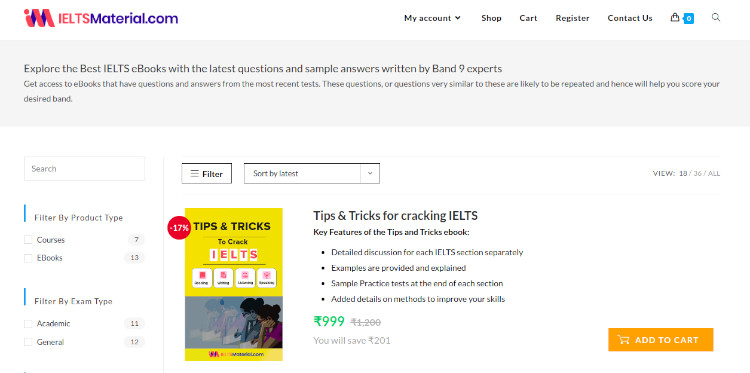 IELTS Material is the most popular online training facility for the Academic and General IELTS tests. The website provides a wealth of free ideas, tactics, and practice tests for all four components of the IELTS exam (Listening, Reading, Writing, and Speaking). It also offers free grammar and vocabulary lessons and IELTS exam revisions to help you pass the IELTS test with an 8+ band score.
In addition, you can learn from IELTS professionals in real-time one-on-one interactive sessions. Their classroom-based live course is a complete course that includes 30+ hours of live one-on-one private lessons, 100+ lectures of self-paced study content, and 10+ practice examinations. You can sign up for a free trial lesson that includes a diagnostic test to determine your strengths and limitations. Based on this, feedback and ideas, and techniques for improving your weak points are supplied.
Features
Get free study material with this course
You will get live online classes with feedback
This course provides world-class ebooks to help you prepare better
The Bottom Line
To summarise, the aforementioned online learning courses are committed to producing exceptional results and keeping a respectable track record. As a result, registering in one will provide you with numerous benefits. You would have an advantage in terms of vocabulary and grammar, which are factors in a strong IELTS score. So don't be hesitant. Check out their trial classes and select the one that is comfortable for you.
Whether you're aiming to learn some new marketable skills or just want to explore a topic, online learning platforms are a great solution for learning on your own schedule. You can also complete courses quickly and save money choosing virtual classes over in-person ones. In fact, individuals learn 40% faster on digital platforms compared to in-person learning.
Some online learning platforms provide certifications, while others are designed to simply grow your skills in your personal and professional life. Including Masterclass and Coursera, here are our recommendations for the best online learning platforms you can sign up for today.
The 7 Best Online Learning Platforms of 2022