Want to get better at creative writing? You must check out the best creative writing certification courses in this post. Courses in creative writing are now recognized as crucial to anyone's development. Writing is essential for anything, whether it's a company strategy, newsletter, content marketing campaign, blog post, script, screenplay, novel, fiction, poem, social media post, or advertisement.
Ghostwriting and freelancing have also gained a lot of popularity among those looking for a side hustle or who wish to pursue their passion. Online writing courses provide a thorough, self-paced education that equips students with the necessary writing skills for any career that might call for them.
The Best Creative Writing Certification Courses
Check out the top 7 creative writing certification courses in 2022. Read on to find the best creative writing certification course according to your requirements.
1. COMPLETE Creative Writing Course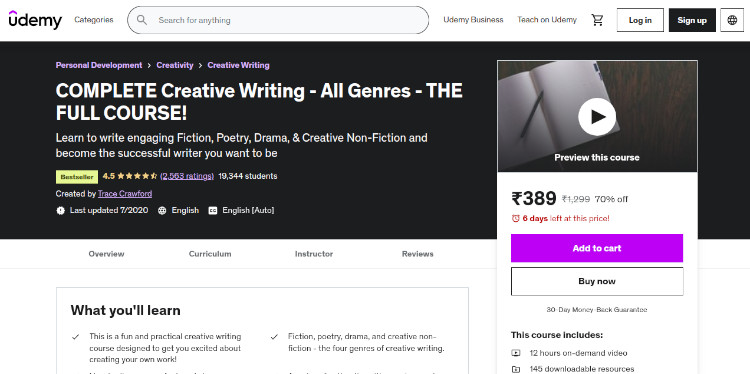 Let's first start with the COMPLETE creative writing course by Udemy. This creative writing course from Udemy is a great choice if you want to discover the four writing genres and build a solid portfolio of your writing works. Many writers, especially novices, find it challenging to put together a strong portfolio, but this course will show you how to do it in just five short portions.
This course digs deep into the worlds of fiction, drama, poetry, and creative nonfiction and is taught by educator and novelist Trace Crawford. You'll find instructions on how to build a digital portfolio in the fifth and final parts. The course is approximately 12 hours long and consists of 161 lectures, including the introduction.
The course is divided into four sections by Crawford: poetry, drama, fiction, and creative non-fiction. Every lesson comes with a writing prompt for your diary as well as 145 downloadable resources and a certificate of completion. There are between 20 and 50 lectures on each topic, totaling between one and three hours.
The only subject covered in the final course session is the digital portfolio. Despite being a crucial part of a writer's career, portfolio construction is rarely included in creative writing classes. You will feel prepared to pursue a writing career after these classes. This course is adaptable because you may do it at your speed and get lifelong access for a single cost. This course can be finished in a day or two if you have the time, which helps you retain the most information possible. Now, let's get down to the features of this course.
Course Features:
It covers fiction, poetry, drama, and creative non-fiction- the four genres of creative writing.
Learn how to discover, perfect, and share your own writer's voice.
Contains a series of authentic writing assignments designed to target the skills you need. These include writing techniques, literary devices, and specialized skills.
Develop the required skills for publishing, creating podcasts, and writing portfolios.
2. Writing: Book Writing: Creative Writing Skills: Punctuation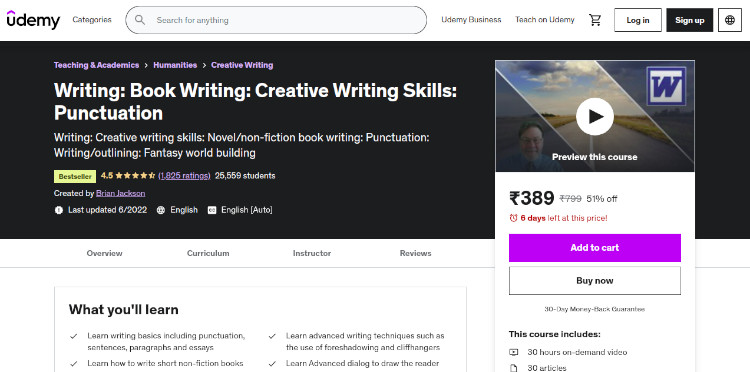 The second course on this list is a writing course by Udemy again. This course by Udemy is specially designed to improve your creative writing skills. You will learn the fundamentals of writing, such as punctuation, sentences, paragraphs, and essays.
This course will assist you in mastering more complex writing strategies like the use of cliffhangers and foreshadowing. You may quickly and easily learn how to write short non-fiction books with sophisticated dialogue that pulls the reader into your story. You'll learn more about your writing style with this course.
Course Features:
Learn writing basics, including punctuation, sentences, paragraphs, and essays. Learn advanced writing techniques such as the use of foreshadowing and cliffhangers. 
Learn how to write short non-fiction books quickly and easily with advanced dialog.
Learn how to self-publish a book on Amazon and use Microsoft PowerPoint to create a book cover.
Learn how to discover your writing style and self-edit your book manuscript.
3. Creative Writing: Crafting Personal Essays with Impact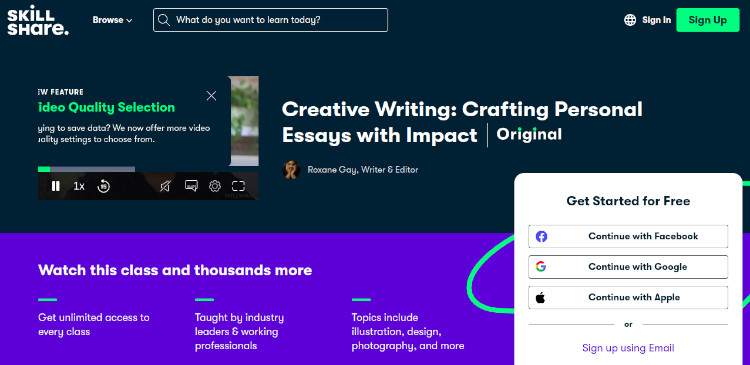 This one-hour creative writing masterclass offers an intelligent, motivating look at how to turn your experience into potent personal writing. Learn to write in a way that connects to the audience you wish to target by developing your voice within a larger context.
Roxane, the author, asks you to take yourself professionally as a writer by imparting her contemplative, methodical approach to the discipline, empowering you to express your passion, take a stand, and have an impact on the world.
The 8 video classes of this course will take you from the first idea to finished, publication-ready work. These classes are jam-packed with helpful advice, doable strategies, and example essays. The course offers links to other resources and a worksheet you can download to support your continued creative nonfiction writing practice.
Everyone who has the urge to write is welcome in this class. Your voice matters whether you want to complete your memoir, improve your writing skills, or consider writing for the first time. Finding your voice and telling your story to the world can be developed with the help of this workshop. 
4. Creative Writing Specialization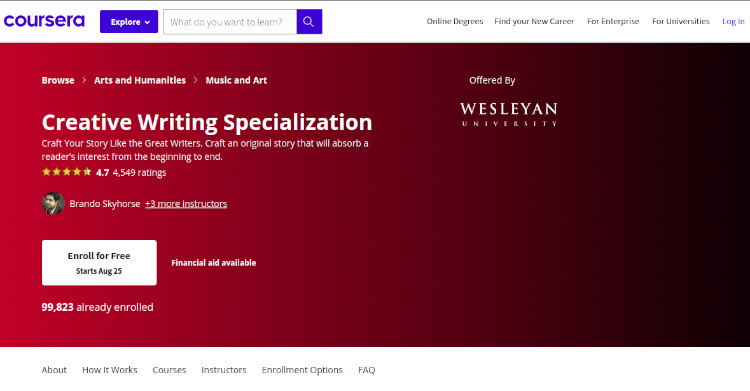 This creative writing specialization by Coursera includes components of three important creative writing genres: narrative essay, short story, and memoir. You will gain the skills necessary to craft a compelling narrative with recognizable characters in an engaging environment presented in a novel description manner. You can assess peer writing critically and analytically. You can begin, revise, and finish writing a sizable original narrative in the genre of your choice for the capstone project.
Anyone interested in writing, from aspiring short story writers to seasoned novelists, can benefit from this specialization. It gives you the tools to accomplish your goal, whether you have a finished story on your desk that needs a new perspective or has had the seed of an idea for ten years.
You will improve your ability not just to improve your writing but also to critique writing in general and take inspiration from the four courses, each of which focuses on a crucial part of writing and may be taken in any sequence you want.
Course Features:
Learn how to craft a plot while storytelling. 
Create intriguing characters that can have an immersive experience for the readers.
Learn the techniques to master fiction writing. Learn how to describe the physical world with sensory appeal.
Using metaphor and imagery to demonstrate clarity, grace, and inventiveness in word choice is imperative to a story's success.
5. Creative Writing Classes Online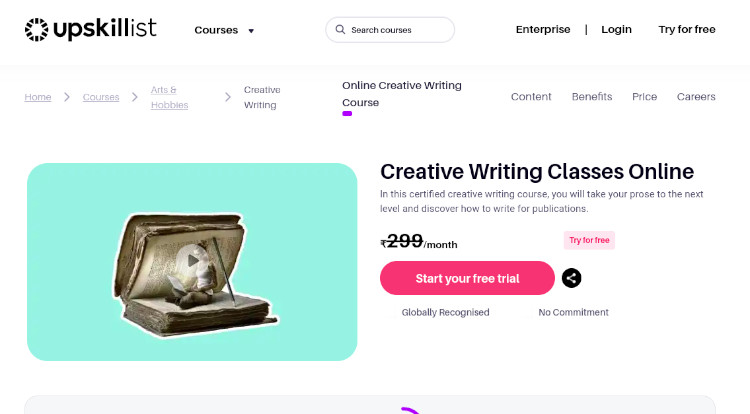 This accredited creative writing course will improve your prose and learn how to write for publications. This course teaches you how to create believable conversation, characters, and stories and use key editing and critical-thinking techniques. Also, learn when and how to use conventional story frameworks and metaphor and visual storytelling methods for a modern audience, focusing on visual symbolism. Furthermore, you can learn how to write fiction in the present day while maintaining uniqueness and avoiding traditionally sensitive or taboo subjects
Course Features:
Diploma in Creative Writing
Intermediate in Creative Writing
Advanced in Creative Writing
Proficient in Creative Writing
6. Good with Words: Writing and Editing Specialization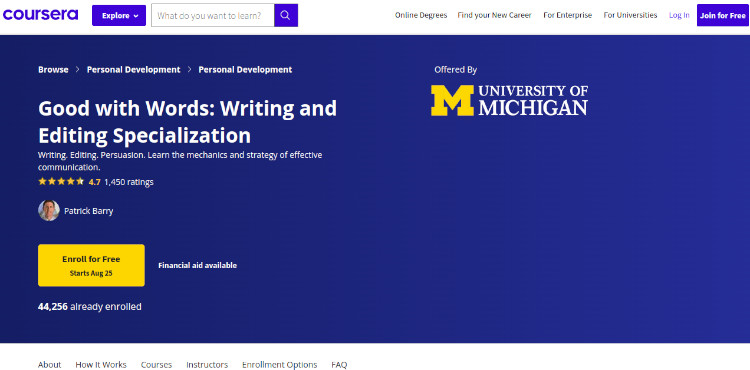 Developing your verbal skills is arguably the most crucial thing professionals, and learners of all kinds can do to increase their effectiveness.
This set of courses focuses on the writing portion of that approach. It focuses on various abilities, such as how to offer and accept high-quality criticism, organize a complex set of content in a reader-friendly fashion, and meet deadlines regularly. Check out some of the critical features of this course.
Course Features:
Creative ways to use syntax
Make your words and slogans more nuanced
Some guidelines to help you punctuate and paragraph like a pro
Developing the habits necessary to finish both short-term and long-term projects
7. Creative Writing: The Craft of Plot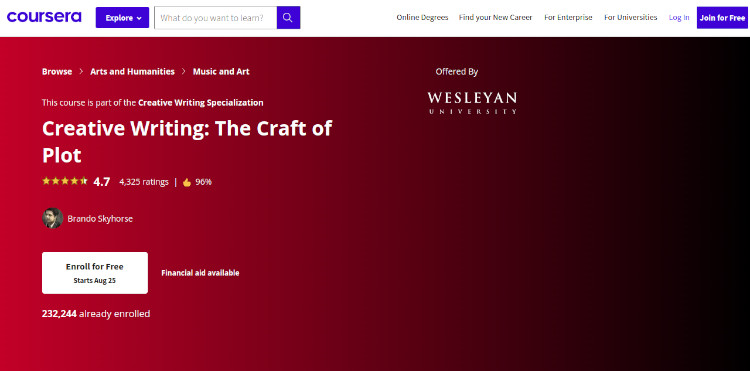 In this course, aspiring authors will learn about plot, frequently the most fundamental and complex component of stories. It will help you discover what keeps it going and how it tricks you with your emotions, hopes, and desires. You can look at the authors' decisions to seize our attention, carry you into a fantastical world, and keep you there. This course will help you examine the narrative arc, pacing, reversals, and the inevitable surprise: linking the beginning, middle, and end. You will also learn how to organize and arrange a plot.
Course Features:
Short Story Writing
Fiction Writing
Creativity
Copy Editing
The Bottom Line
There is a plethora of online writing classes accessible on the market, but the student's comfort level and skill level will determine which course is best for them. A newbie should start by enrolling in some free online creative writing courses, perhaps on Coursera or Udemy. The learner might gain insight into what will happen next by taking these courses.
The novice should attempt writing and assessing their own mistakes and challenges after studying several free introductory courses. It is simple to choose the type one wishes to go for once the mistakes are understood.
Certificate programs may be very helpful for individuals who have already written and are hoping to develop a second line of work based on their writing abilities or who are trying to improve their CVs. One can get a major certificate and self-pace their way toward their credits by contributing the required quantity of time and dedication.
Whether you're aiming to learn some new marketable skills or just want to explore a topic, online learning platforms are a great solution for learning on your own schedule. You can also complete courses quickly and save money choosing virtual classes over in-person ones. In fact, individuals learn 40% faster on digital platforms compared to in-person learning.
Some online learning platforms provide certifications, while others are designed to simply grow your skills in your personal and professional life. Including Masterclass and Coursera, here are our recommendations for the best online learning platforms you can sign up for today.
The 7 Best Online Learning Platforms of 2022