Academic writing may be required for a writing assignment, work report, coursework, or product report. It is crucial for graduate students to comprehend the significance of writing in college because many of them have trouble with it. There are numerous additional direct and indirect advantages. Academic writing is frequently formal and gives students the opportunity to explore any topic. While the majority of your writing tasks will be in English, some may ask you to translate or compose in a different language.
This post has picked the best academic writing certification courses for you. Read on to learn which one fits you.
7 Best Academic Writing Certification Courses: 2022
Do you want to get better in academic writing? Check out the best academic writing certification courses in this post. Here is a list of the best academic writing certification courses in 2022:
1. Academic Writing Essentials: University Writing Crash Course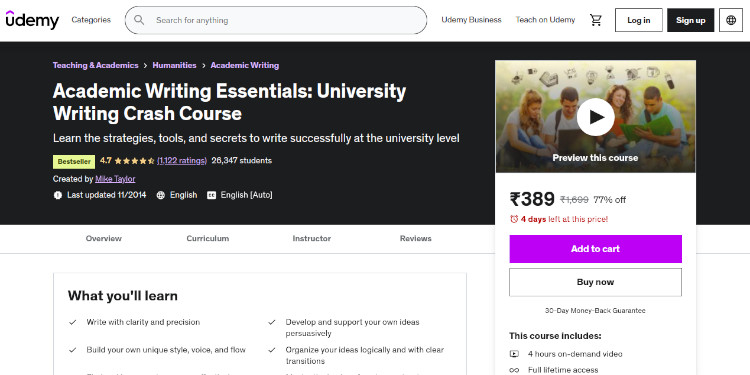 This course's goal goes well beyond just giving you a bunch of insightful lectures. Its goal is to engage with you in the role of your writing coach in order to support your ongoing progress as a college-level writer. In other words, you will gain from this course's content as well as limitless access to a college writing specialist who has instructed academic writing at all stages of high school and university around the world.
You will acquire the abilities and self-assurance necessary to write well in any subject and at any college level by learning through the 45 lectures of this course combined with personal assistance from the mentor to your development as a writer. In this course, you will discover the techniques, resources, and insider knowledge required to become a superb academic writer, regardless of your academic stage, whether you're a first-year or fourth-year student, an overseas student, or returning to school after a long break or getting ready to start university soon.
This course will lead you through the principles of brainstorming, outlining, and persuasively delivering your ideas. It will start with a lecture series on the process of writing. You'll discover how to create compelling thesis statements, great supporting paragraphs, and engaging introductions and conclusions. You will learn how to create resumes, cover letters, graduate school admissions papers, and handle the most typical academic writing assignments. The most significant benefit is that you will have unrestricted access to personal and expert input on your questions, queries, and problems.
After finishing this course, you'll have all the resources and guidance you need to master your upcoming college essay.
Course Features
It helps you to write with clarity and accuracy.
It helps in the development and convincing expression of your thoughts.
You can use it to develop your distinctive style, voice, and flow.
Learn how to clearly and smoothly flow between your thoughts.
Effectively locate and incorporate sources.
Learn the fundamentals of grammar, punctuation, and sentence construction.
Know how to handle a variety of common writing projects.
2. Academic English: Writing Specialization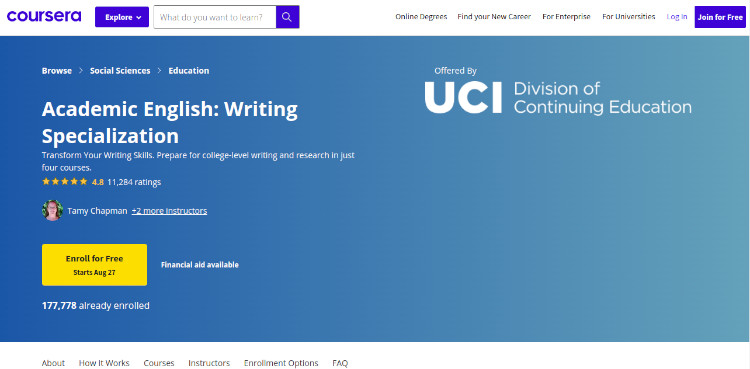 This specialized program prepares you to excel in any college-level course or professional career. You'll gain knowledge of how to carry out rigorous academic research and eloquently communicate your views in an academic setting. Your final capstone project will be an academic research paper on a topic of your choice that will synthesize all you've learned during these courses. This specialization program includes five courses: grammar and punctuation, getting started with essay writing, advanced writing, introduction to research for essay writing, and writing a research paper.
Course Features:
Punctuation
Essay Writing
Academic Writing
Writing
English Grammar
Grammar
Creative Writing
3. Double Your Academic Writing Quality: Practical Writing Tips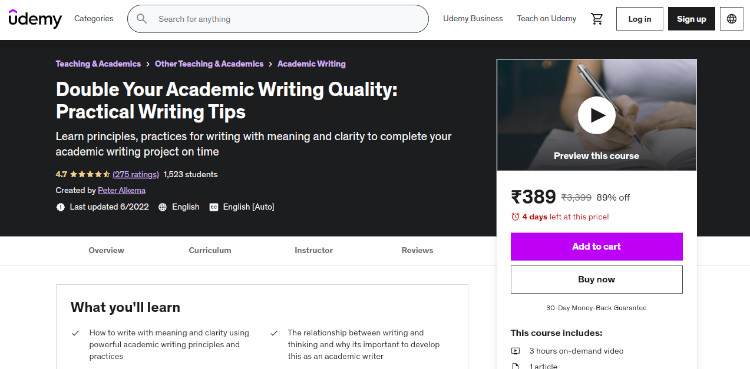 In this course, you will learn a variety of concepts and methods to help you write better. The course material is suitable for writing assignments in various disciplines, faculties, and fields. In this course, you will learn how to examine the connection between thinking and writing, the golden thread, and practical guidelines like how to think like a reader. Some of the exercises will assist you in creating more effective sentences. These include techniques to make sure your writing properly addresses the message you want to portray, concrete themes, complexity last, and old before new. This will benefit the reader and make your writing more fluid.
Course Features:
In this course, you will get direct access to the worksheets, use them as you go, and save them for later.
It will help you describe your objectives to the group of students taking this course and introduce yourself.
Every step of the journey, you'll receive support and reasons to celebrate your progress: 25% > 50% > 75% & 100%
You will get over 2 hours of brief, step-by-step guidance, lectures, and interaction.
4. Writing in English at University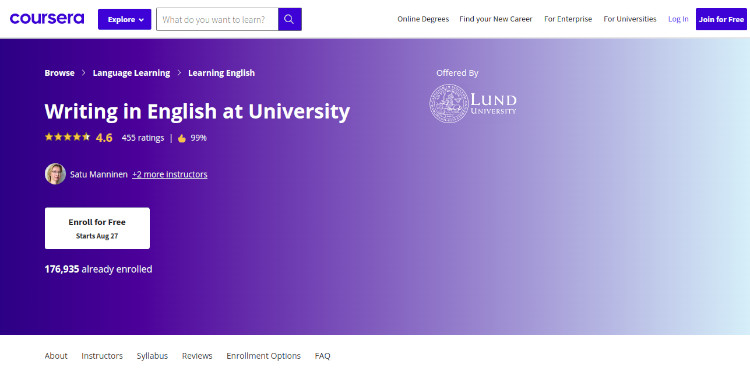 Early development of strong academic writing and research skills is crucial for success in school and the workplace. This course aims to teach you the elements and advantages of what is referred to as process writing as well as the conventions of academic writing in English. It will help you to put together your own set of academic writing "tools," as well as to try them out and think back on how you've changed as a writer. Even though the course focuses on basic skills, you will be able to put these generic abilities to fit the special needs of your field. You will learn how to stimulate reflection on discipline-specific customs.
Course Features:
Writing in English at university: An introduction
Structuring your text and conveying your argument
Using sources in academic writing
The writer's toolbox: Editing and proofreading
5. Effective Academic Writing: Write Papers that Get Results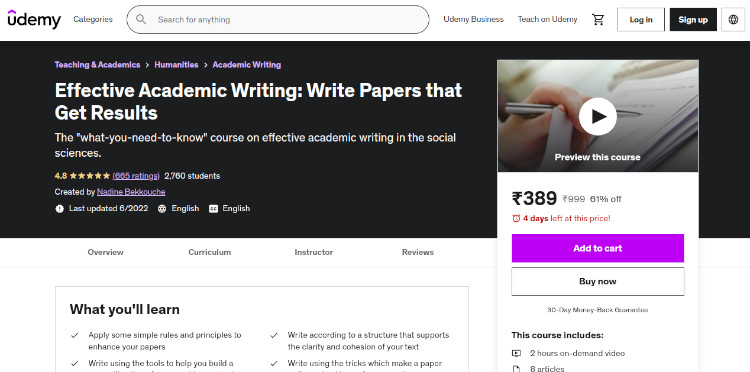 In this course, you will get all the material you need to advance your academic writing in the free lectures, course materials, and quizzes. The best candidates for this course are college students and undergraduates who need to improve their grades and graduate students who want to advance their writing.
However, you shouldn't go for this course under the following circumstances:
Students who have worked on multiple theses
Students studying subjects significantly different from the social sciences should be aware that each topic has its writing style.
Additionally, this is not a grammar course. The course won't walk you through the fundamentals of the English language and style if that is what you're searching for. Enroll in this course immediately if you want to improve your academic performance.
Course Features:
Apply some basic guidelines to improve your writing.
Use the resources available to help you develop a text's clarity and coherence, and write in a manner that supports that structure.
Use writing techniques that will help your paper be well-received by your lecturers and colleagues.
6. A Beginner's Guide to Writing in English for University Study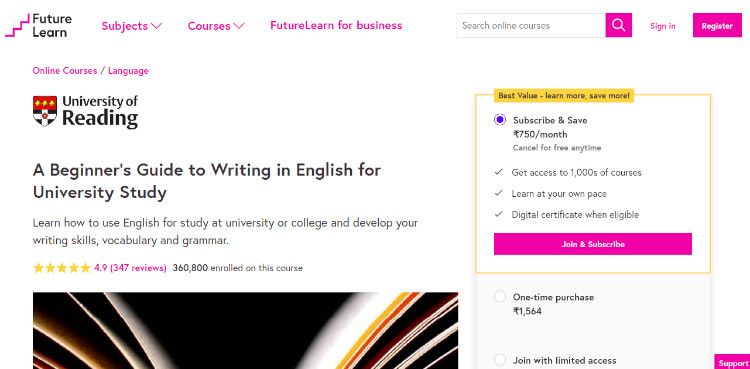 Comparing academic writing to other forms of written English can be very challenging. You can study the fundamentals of academic writing and improve your English language abilities with the help of this course.
You'll get some expertise in fundamental aspects of "academic" language, discover the steps in essay writing, and create an original essay. As a result, at the completion of the course, you'll be able to write a solid, fundamental academic essay. You'll also learn how to plan an essay, compose in an academic style, and utilize tools to assess other learners' and your work.
Course Features:
Examine the essay's organizational structure: identify and list the many parts of an essay.
Develop your essay's initial draught and compose it.
Contribute to the discussion and get input on early article versions.
To prepare and submit a second draught of your essay, consider the criticism received and make any necessary improvements.
7. Academic Writing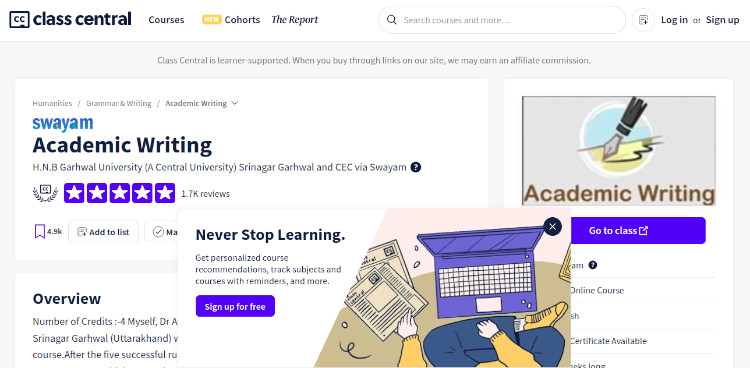 By offering the core knowledge needed for efficient and goal-oriented academic writing, this course seeks to close this knowledge gap. It is a foundational course, and how this knowledge is applied depends on each learner and their field of interest. The objective of Course One is to distinguish between distinct types of academic writing after the course is completed. It will help you to detect plagiarism. You will be able to practice the fundamental abilities required to conduct a high-quality literature review, tailor your research to the right journal and explain your findings for publication. For the development of their careers, the course will be beneficial for PG students, academic researchers, young scientists, and faculty members (of any area or subject).
Even though anybody can attend the course, the instructors are actually from the research faculty and give all the information. Their tagged remarks to the video are pretty helpful for people who might not interact in web classes. The course is exciting for a professional career, arousing curiosity and excitement. It is helpful for professionals, researchers, and academics already teaching. Both the presentation and the transcript are fascinating and helpful. In this course, the presentation is effective, clear, and comprehensive, and the quiz questions are thought-provoking and challenging.
Course Features:
Understanding the basic rules of academic writing
Learn how to review research papers and add referencing and citations. 
Understand research writing proposals
Learn about the ethics in research: research fraud, competing interests, authorship, slicing research, FFP, and COPE guidelines.
The Bottom Line
Effective academic writing is a superb communication tool. It demonstrates how well-versed an individual is in a particular problem or subject. They also learn how to analyze and present their subject knowledge in the appropriate manner or style. Additionally, some students find it challenging to communicate openly with their peers. The best option for them to communicate their ideas is through writing. For instance, if you have to communicate verbally as a student, you might have trouble forming complete phrases or explaining your views. Even if your writing needs development, academic writing gives you a foundation for communicating.
Whether you're aiming to learn some new marketable skills or just want to explore a topic, online learning platforms are a great solution for learning on your own schedule. You can also complete courses quickly and save money choosing virtual classes over in-person ones. In fact, individuals learn 40% faster on digital platforms compared to in-person learning.
Some online learning platforms provide certifications, while others are designed to simply grow your skills in your personal and professional life. Including Masterclass and Coursera, here are our recommendations for the best online learning platforms you can sign up for today.
The 7 Best Online Learning Platforms of 2022