How important is learning a new language that you have never spoken or never even thought of dealing with? Well, the answer to this question is purely contextual and specific to situations. While languages constitute the subject domain mostly receiving the least importance in Indian education, the utility of knowing at least one language well is immeasurable in today's world of inclusivity and diversification. France, resembling a country of eminent romantic literature as well as a renowned patisserie, has a lot more to offer in terms of its lifestyle, education, career prospects, and business opportunities. And all of these can be majorly achieved without knowing the native language, but not always. And that's the catch; that's the point where the necessity of learning French brews up. Containing the city of Love as its capital, France stands to offer a plethora of opportunities in almost every sphere to people around the globe. Learning French online and applying it where needed would surely make you stand out among the commoners.
Benefits of Taking a French Language Online Course
Here are some of the benefits of taking a French Language course online:
The fact that online courses are often self-paced and contribute to the flexibility in your timeline might seem trivial, but its impact is not negligible.
Knowing the French language is often a brownie point in your resume, especially if an organization delivers to French clients and demands its employees to get well-connected with the client team.
Getting familiar with the language of France enables you to get connected to their culture and know their lifestyle in a better way, making a lot of things easier if you are dealing with them.
Learning French online not only enables you to revisit your lectures as per your requirement but also caters to your daily routine.
In case the online learning program consists of live classes with recorded sessions, there is a good opportunity to interact with your batchmates, who, in all probability, would hail from different cultures, and bingo: different languages.
7 Best French Language Courses: 2022
Here are some of the best online French language courses, any of which can enable you to develop a good command of the language and add a new feather to your cap.
1. Learn French in just 5 minutes a day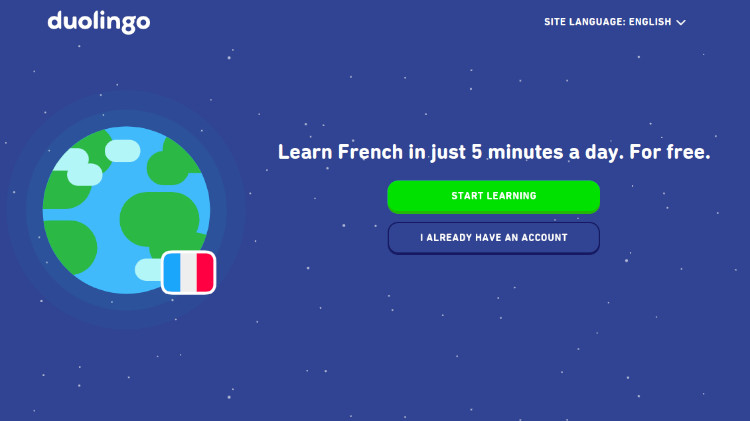 Finance can be your best friend or worst foe, depending on how you plan to deal with it. Planned expenditure will always benefit you and make you realize it is more important to save for good than to spend well when not needed. If you need to pursue a language that has been completely unfamiliar to you till date, it is advisable to go for the options that do not cost you a fortune. This is because, for a completely foreign language, there are chances when you end up not getting connected enough to the course or lack growing interest in it. If you opt for a highly paid course, you either end up wasting money by giving up on the course or simply dragging it through because you have spent a bomb on it. There is nothing more malicious than disinterest in the journey of learning. Learning French in just 5 minutes a day is one of the most cost-effective courses to learn French online, featured by Duolingo.
Features:
The online forum of Duolingo offers lessons filled with interactive games. This would help you to reduce your pressure level and enjoy the process throughout.
Learning French in just 5 minutes a day– this claim, although it raises a huge question on the pace of learning, offers equal flexibility with no added burden on your already busy schedule.
Whether you are here as a beginner to develop the basic skills of the language or you are quite a rookie looking for better practice– Duolingo doesn't discriminate in any way. All you need here is a balanced timeline with clear goals and regularity.
In addition to the reading, writing, and listening skills, this course also offers activities that help you with translations.
2. French for Beginners: Level 1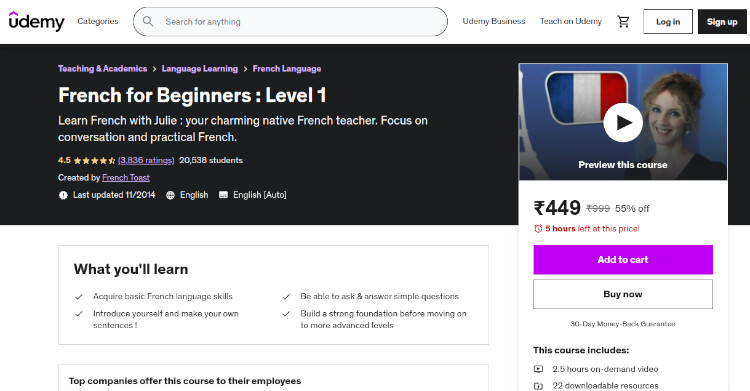 If you are into searching for learning new skills online, one of the most popular platforms that your search engine will show in suggestions is undoubtedly Udemy. What makes Udemy so popular is its range of courses that change with the requirement of the trainee. French for Beginners: Level 1 on Udemy is one of the best programs for learning French online. The instructor of the course, although a native of France, is very jovial and comforts the participants in a very friendly way. Brands like WordPress, Net App, and many more recommend this course and also offer them to some of their employees. This learning program will ensure that your foundation is strong with basics, and you are all set to level up once you complete the course.
Features:
Unlike many other courses on the same topic, this system includes lower hours of video lectures, not more than 3, to be precise. 
The course concentrates more on the engaging aspect that helps the participants to get more connected to the content.
A good number of downloadable resources in the course offer printable vocabulary lists and grammar rules that can feature on your study boards.
The USP here is the usage of bloopers: often, the instructor would make errors in order to point out the common mistakes the trainee can also tend to commit. This is an unusual yet effective way of generating awareness of the specific mistakes in the participant's mind.
3. French through Immersive Learning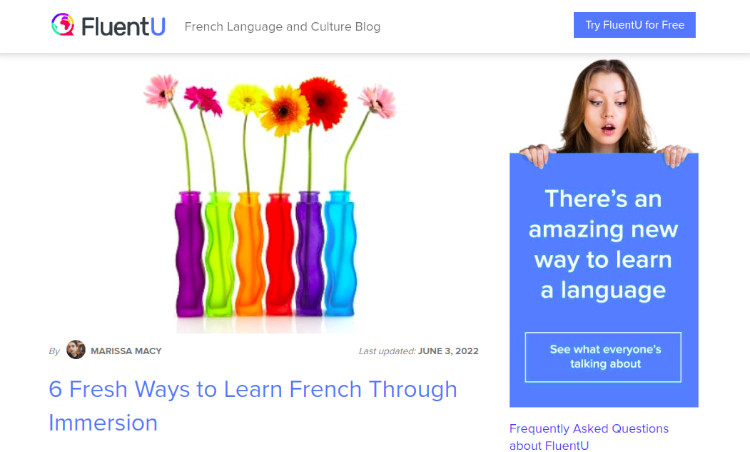 Learning French online can be achieved in many ways. And you will get to know the way that works for you the best once you are clear with your purpose. Most of the courses that are popular online have pre-recorded or live video lectures that cover the technical aspects of grammar and vocab, basically the skeleton of the language. Just like learning a programming language completely requires hands-on practice in addition to syntax and theoretical concepts, learning a new language without its utility, its phrases, and its idioms would yield you nothing. And therein comes the concept of immersive learning, where trainees are made to absorb the true flavor of the language through real-life situational videos and conversations. FluentU specializes in this domain and offers an immersive learning program on French.
Features:
The video clippings in the course offer a good concoction of French commercials, news reports, and movie trailers so that you have a platter of different circumstantial conversations to learn from.
Flashcards and quizzes dominate the section of activities, thereby making your journey more engaging and full of fun.
Although the platform has monthly or annual subscription plans, they also offer a free trial period for a limited duration.
The video clippings included in the course are provided with subtitles. So each and every word can be clicked on, and instantly you can find out the meaning in English.
4. FSI French – Basic Course (Volume 1)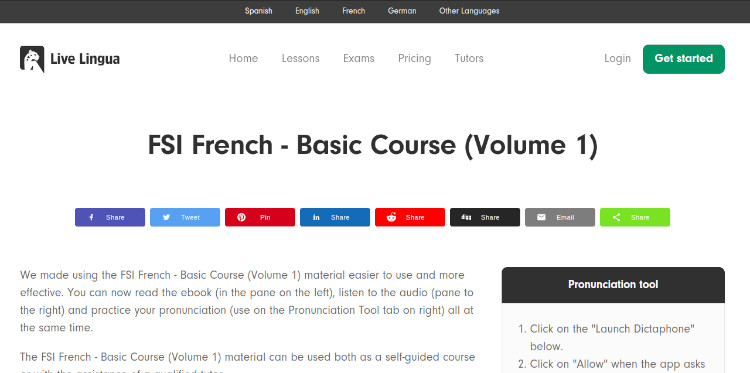 Formal and informal conversations in daily life– that's the key you need to focus on while taking up any new language to learn. While in most cases, students tend to pay more heed to the structural framework, they forget to deliver the same diligence towards the conversational aspect. And one of the most important parameters that can either make or break your speaking skills is your pronunciation. Incorrect pronunciation can often yield a loss of face and, more importantly, make you sound indecipherable. Live Lingua has identified this gap and hence designed the FSI French – Basic Course (Volume 1) online learning program to fill in for French enthusiasts.
Features:
This course offers ebooks for the students from the very first lesson, along with pre-recorded authentic narration so that the students can listen to them and practice their speaking skills.
Drills and exercises in the course will enable you to master the technical aspects of French in no time.
The situations covered in the program will contribute to strengthening your comprehension skills over time.
The grammar points come with pertinent notes that you can refer to whenever needed.
5. Learn French from the experts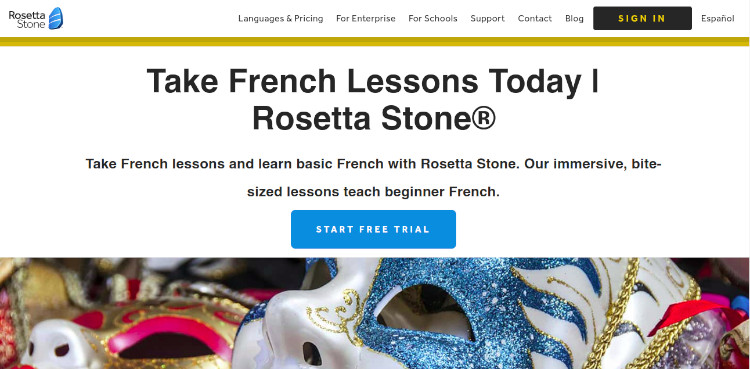 Intuitive learning is another learning model that is in these days as far as online learning programs are concerned. Learning the French language online is not that difficult, when you get to do so from the experts on the Rosetta Stone learning platform. While the do-s and don't-s of grammar and wordlist for enhancing your vocabulary constitute one part of the content, the other sections mostly ensure that the flavor and culture of the language seeps into you. This helps in developing your instinct which would refrain you from making mistakes in the language. Exploring new skills at a perfect pace– that kind of sums up the journey with the Learn French from the expert's online course on Rosetta Stone. With a lot of emphasis on individual learning, this platform works on the mission of instant rectification of the participants with apt reasoning.
Features:
Having a good memory is appreciable, but always relying on that is not. Rosetta Stone sustains minimal memorization for its online French learning program.
They offer activities to make sure that you are on your mark with phrases, idioms, and group verbs in various contexts. 
Live coaching and audio recordings from native speakers are bound to enhance your learning path with authenticity.
Although Rosetta Stone has subscription plans for 3 months, 12 months, and a lifetime, they also offer a free trial period for a limited duration.
6. French for Beginners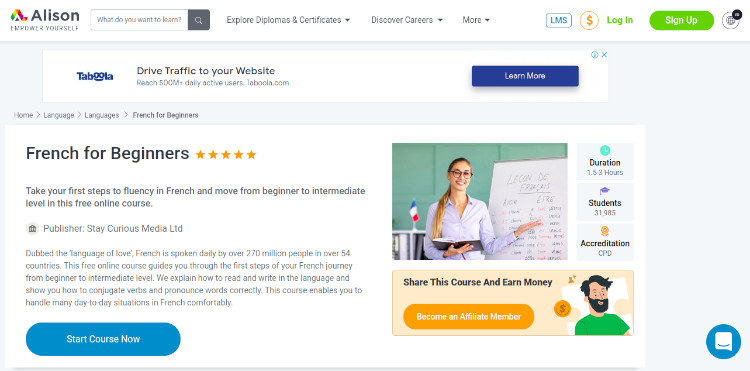 Words of distinction often remain unidentified when one tries to learn a language that is completely new to him or her. The French for Beginners course offered by Alison makes this point the nucleus of the journey. While most of the language learning courses either deal with reviving the speaking skills or nurturing the reading-writing duo, Alison's approach is way more different. The objective of this course is to ensure that you learn the correct usage of pronouns and other parts of speech that indicate the gender of the person talked about. Demarcations between masculine and feminine words often constitute an important segment of learning the Language of Love or any other language if considered generally.
Features:
This course is a boon to those who tend to learn new languages with translation activities.
This learning program also bears on teaching you to conjugate tenses in the French language.
Just like you know the seven days of the week by their English names and their names in your native language, you would know them now in French as well.
7. Coffee Break French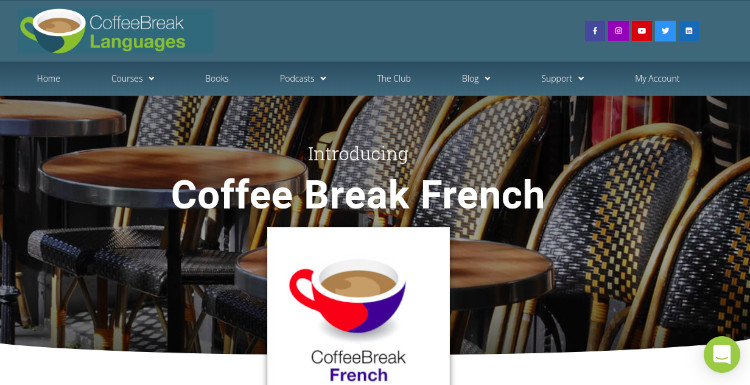 Learning a completely different language online over a cup of coffee! Sounds absolutely crazy, right? Well, maybe not as crazy as it sounds. Just imagine cracking the crisp caramel layer of your favorite French dessert Crème Brûlée with surreptitious fumes emanating from the cup of rich black coffee on a mellow afternoon– sounds like a dream, doesn't it? But in all of this beautiful arrangement, where do you get to learn French? The answer is nothing but a podcast. Coffee Break French offers seasons of audio podcasts that deliver enjoyable content in the French language. The seasons are leveled from beginner to intermediate and then to advanced. In addition to entertainment, this course is extremely comprehensive and can be accessed from anywhere, anytime.
Features:
This learning system creeps into your daily life in the garb of entertainment and leaves an excellent but unique learning experience behind.
The program zeroes in on making your mundane mugging-up habits just a sad memory and ensure that you are more into assimilating what you plan to learn.
The upper advanced season is the final go to challenge yourself and apply all that you get to learn here.
The Bottom Line
Those mentioned above are some of the best French Language courses that have gained popularity over time through trainee feedback and success rates. The idea here is not to confuse you with endless options on the platter but to enable you to identify what you require the most. So get set learning and all the best on your French Language journey that hopefully will begin soon.
Whether you're aiming to learn some new marketable skills or just want to explore a topic, online learning platforms are a great solution for learning on your own schedule. You can also complete courses quickly and save money choosing virtual classes over in-person ones. In fact, individuals learn 40% faster on digital platforms compared to in-person learning.
Some online learning platforms provide certifications, while others are designed to simply grow your skills in your personal and professional life. Including Masterclass and Coursera, here are our recommendations for the best online learning platforms you can sign up for today.
The 7 Best Online Learning Platforms of 2022