Are you looking for the best business writing certification courses to improve your business writing skills? We have listed a few top-notch courses in this post for you. You have several instances to write at work every day. You might be distributing a team communication, your team might be presenting an idea, or you might be in charge of writing client proposals.
How can you be sure that your writing effectively conveys your ideas? Is your message clear and straightforward, or does it require some editing? Should you use visuals? If so, how can you successfully incorporate them? The business writing courses can give you the skills to write explicit texts for your coworkers and help you communicate fluently in a professional situation.
To help you in improving your written communication in the workplace, we've included a list of 7 business writing courses that are trusted on the market. Many courses are available to anybody, regardless of employment status, but some are geared for businesses whose managers want to provide continuing education to their employees. Read on to see which of these options best suits your requirements.
The 7 Best Business Writing Certification Courses: 2022
Here is our list of the best business writing certification courses to try. These courses are intended for any level of the participant, from recent college graduates to the experienced executive and everyone in between. It can be used for immersive training or as a brush-up of your skills.
1. Better Business Writing Skills with Certification from Udemy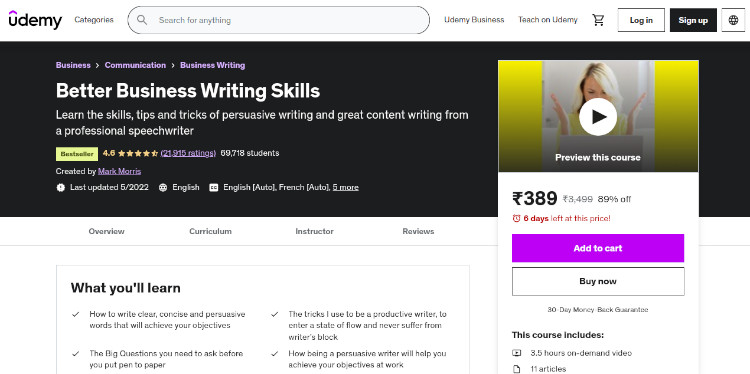 We recommend the Better Business Writing Skills course as the ideal option for beginners because it teaches basic English speakers how to write emails, articles, reports, marketing copy, and more in just three hours and a half.
Mark Morris is the author of the Better Business Writing Skills course. He is an experienced speechwriter who has won a Cicero Award and taught his techniques to more than 60,000 students. He has prepared speeches for prominent politicians. The three and a half hours of on-demand video, eleven articles, and seventeen downloadable resources that make up the course are all accessible via the internet or the Udemy mobile application.
Students who take this course learn how to write effectively and persuasively. This course will help you in writing productivity tips, editing procedures, and how to assess your writing to ensure that it is accomplishing its objectives.
Better Business Writing Skills comes with a money-back guarantee, lifelong access, and a certificate of completion at the completion of the course. You might be able to get the course for less through sales and discounts from Udemy.
Course Features:
Learn the ancient secrets of persuasive writing to help achieve your objectives at work.
Understand how being a prolific writer is vital to the success of your career. Learn to polish your words with powerful editing techniques.
Develop the ability to test your work and ensure you have the maximum impact on your writing.
2. Business Writing Certification Course from Coursera
Our 2nd pick for the finest business writing course is the University of Colorado Boulder's four-week Business Writing course. This course teaches students the fundamentals of effective business writing. With over 150,000 recent ratings, this course is a reference to how well it is taught.
Dr. Quentin McAndrew, an English professor at the University of Colorado Boulder who has instructed more than 100,000 students online, is the program's director for business writing. 52 films and 16 tests make up the course's nearly 13 hours of content. The course is self-paced, so although it's meant to be finished over four weeks, students can go at their own pace and finish it earlier.
Business Writing instructs students to implement the 10 good business writing concepts in their daily tasks. Additionally, it teaches organization, structure, and rewriting to produce clear and effective writing. It also provides easy-to-use tools for writing improvement.
Course Features:
Learn the essential elements to formulate successful writing.
Develop the ability to craft influential writings to win your customers at work.
Infuse a touch of clarity and personalization to activate your voice in the business writings.
3. Write Like a Boss: Master Your Business Writing Skills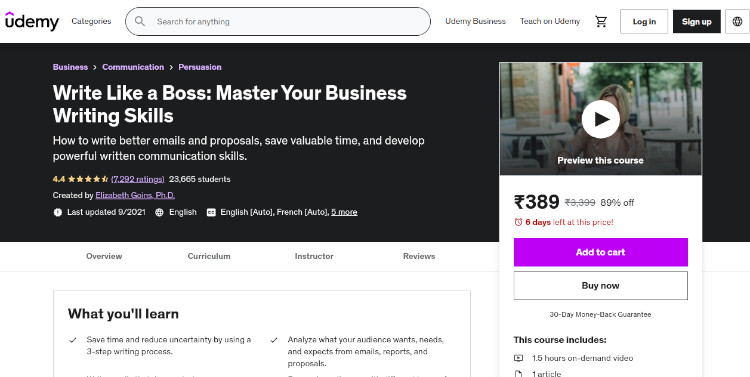 This course from Udemy is yet another best-seller. In this course, students will receive 2.4 NASBA CPE credits after finishing it. But in order to receive these credits, you must complete all the videos and achieve a final exam grade of 70% or higher. This course has six videos that can be watched at your own pace to make up the course's six lectures. You will thoroughly understand the three Ps (Purpose, Person, and Point) of writing while composing emails, reports, and proposals.
Course Features:
Using a three-step writing method will help you save time and eliminate doubt.
Examine your audience's demands, requirements, and expectations for emails, reports, and proposals.
Send emails that showcase your emotional quotient.
Use several sorts of evidence, as well as well-organized reports and recommendations, to persuade audiences.
Write easy-to-read, crystal-clear emails, reports, and proposals.
Consider your business writing abilities, make goals, and plan for ongoing development.
4. Free Business Writing Course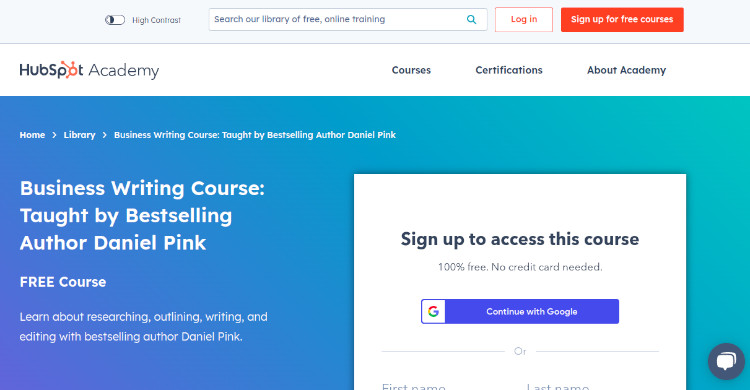 This course will show you how to use the most essential rules of effective business writing. Also, how to use straightforward tools to enhance your writing significantly and how to organize, structure, and revise your writing to communicate more effectively than before. You will learn how to develop excellent ideas, establish a research procedure, and produce excellent outlines in this course. With Dan Pink's best writing tips, you can improve your writing. In this course, you will learn how to increase your knowledge of editing and proofreading.
Course Features:
Come up with great ideas, build a research process, and create great outlines.
Write better with bestselling author Dan Pink's top writing tips.
Learn to develop your editing and proofreading skill set.
5. Business Writing & Technical Writing Immersion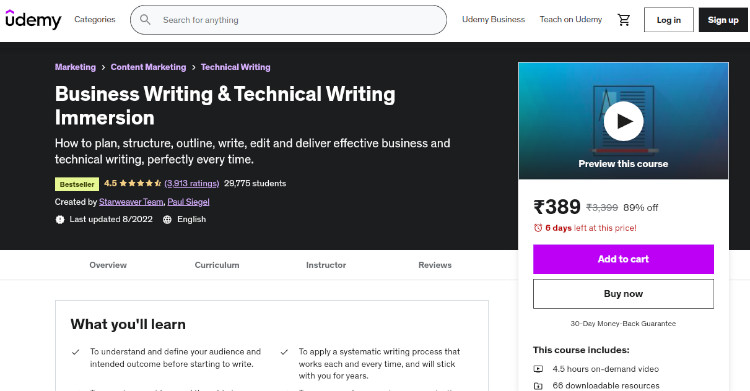 With over 25,000 students and more than 3,250 reviews, this course is among the best-rated online business and technical writing courses for a very good reason.
In this course, you will learn how to use a straightforward, tried-and-true method to compose emails, reports, business documents, and other professional communications successfully. Dan Graham created this "writing system" long ago, which has proven effective. The approach has been the focus of numerous books and hundreds of business courses and is used by tens of thousands of professionals worldwide.
The writing system guides you through the process from first writing analysis to final text using 12 steps and nearly 60 practical approaches, resulting in consistently successful documents. The course includes tutorials for each writing method, exercises, and considerate solutions. Professionals for whom English is a second language benefit from special instructions in this course. With the help of this course, teams can use sophisticated approaches to generate lengthy papers. Writing business emails is covered in a different area of this course, along with tenses, vocabulary, and tone.
Course Features:
Develop the ability to analyze any text and understand your audience.
Be creative at writing the 'purpose statement.'
Learn how to gather information and outline the essential draft for your content.
Learn how to revise your content and edit them for clarity, coherence, readability, and contextual alignment.
Give your writing the final touch and polish often provided by professional editors.
6. Academic and Business Writing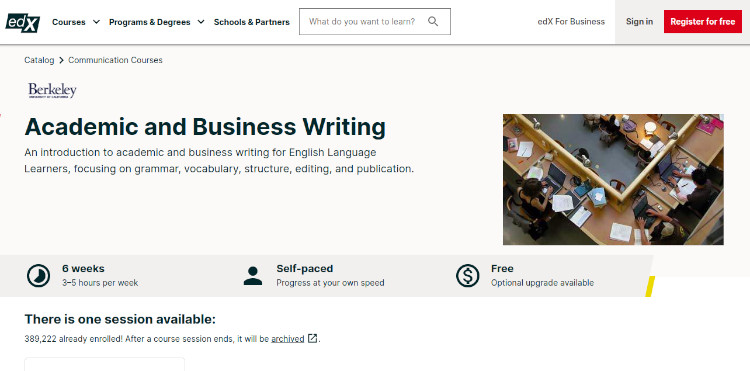 Through this course, students will understand the needs of several writing genres and seek to enhance their grammatical proficiency, vocabulary growth, and revision and editing abilities. Additionally, students will have the chance to put a variety of different subjects and concepts into practice. Assignments for the course include short articles, quizzes, diary entries, and lengthy essays. Overall, it's a fantastic course for those just getting started in their careers as business writers.
Course Features:
Before you begin writing, you should decide your target audience and what you want to achieve.
Use a tried-and-true writing method that you can stick with for a long time.
to better arrange your thoughts and ideas so that your points are made and understood by your audience.
to write impressive, succinct messages that get the job done, impress your audience, and advance your career.
To guarantee your audience can easily read the materials you produce, give them careful planning and consideration.
Ensure that your email is read right away and placed at the top of communications, assisting you in achieving your goals.
Make your digital, written, and conversational communication more efficient and effective.
7. Business Writing For Busy People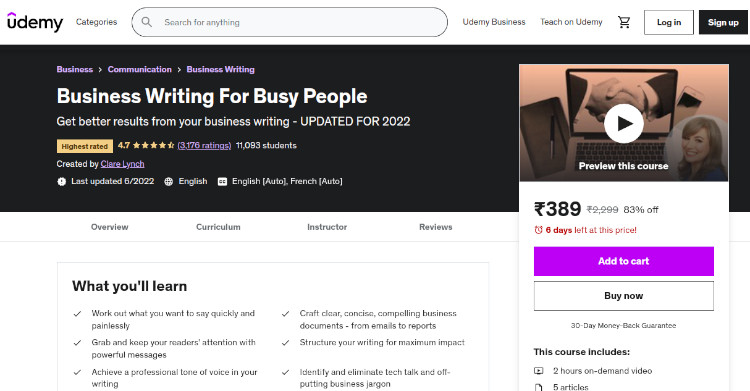 Business Writing For Busy People course outlines the essential knowledge you need to have if you want to improve your business writing. Anybody who has to write a lot at work would benefit greatly from taking this course. Whether you're a recent graduate who wants to modify your writing style for the business or a seasoned executive looking to improve their corporate writing abilities, this course will serve both.
You'll complete this course with a variety of skills for creating more persuasive business documents, from routine emails to sales presentations and proposals. After completing the course, you'll begin by discovering the characteristics of a "professional" writing style. You'll learn about a number of potent (and free!) online writing resources that you may use to evaluate your work.
Additionally, you'll discover how cultural differences can influence how influential your writing is, information that is crucial to know if English isn't your first language or if you're collaborating with people from around the world.
Course Features:
You can save time writing anything – from daily emails to persuasive pitches.
Structure your writing for maximum impact and present your ideas so readers can instantly home in on your most important points.
Apply a proven formula for crafting pitches and proposals that persuade.
Engage your readers by making your writing warmer and more humanlike; establish credibility by effectively proofing and polishing your work.
The Bottom Line
Finding the proper course for your needs can be challenging despite the fact that it is now easier than ever to discover skilled business writers teaching their skills and techniques on a variety of online learning platforms. All the courses mentioned above can help you get better at business writing. Still, we recommend Coursera's Business Writing given by the University of Colorado due to its reasonable pricing options, meticulous methodology, and positive feedback. Before selecting a course, consider your goals, budget, and available time.
Whether you're aiming to learn some new marketable skills or just want to explore a topic, online learning platforms are a great solution for learning on your own schedule. You can also complete courses quickly and save money choosing virtual classes over in-person ones. In fact, individuals learn 40% faster on digital platforms compared to in-person learning.
Some online learning platforms provide certifications, while others are designed to simply grow your skills in your personal and professional life. Including Masterclass and Coursera, here are our recommendations for the best online learning platforms you can sign up for today.
The 7 Best Online Learning Platforms of 2022