We often hear that language is just a medium of communication. Even in our schooldays, we tend to give importance to a comparatively lower degree when it comes to languages or language-based subjects. However, this "just a medium" can often become the primary cause of confusion when communicating with people who speak different languages, especially when they don't understand the language you speak at all. Japan– the land of the rising sun, is famous for kabuki baths and onsen hot springs. But in terms of technology, they are one of the dominators in the automotive industry. It is needless to say that a lot of engineers, scientists, as well as people from the fashion and food industry often migrate to Japan for better career prospects, academic opportunities, or just by choice. And in case they are acquainted with the language of the nation, how cool is that?
Benefits of Taking a Japanese Language Online Course
Here are some of the benefits of taking a Japanese Language course online:
Undoubtedly, online courses are often self-paced and contribute to the flexibility in your timeline.
Knowing the Japanese language is often a brownie point in the CV, especially if an organization has prolific Japanese clients.
Getting familiar with the language of Japan enables you to get connected to their culture and know their lifestyle in a better way, making a lot of things easier if you are dealing with them.
Learning Japanese online enables you to revisit your lectures again and again as per your requirement and get your doubts cleared on the go.
In case the online learning program consists of live classes with recorded sessions, there is a good opportunity to interact with your batchmates, who in all probability would hail from different cultures, and bingo: different languages.
7 Best Japanese Language Courses: 2022
Here are some of the best online Japanese language courses, any of which can enable you to develop a good command over the language and add a new feather to your cap.
1. Learn Japanese in just 5 minutes a day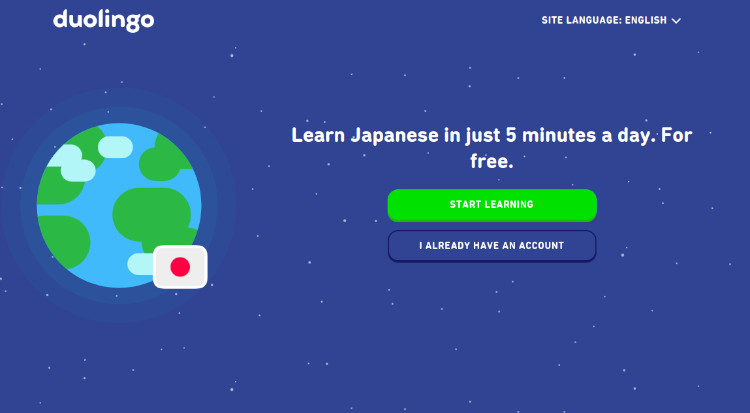 Whenever there is a need to pursue a language that has been completely unfamiliar to you till date, it is a more recommendable option to go for the choices that are cost-effective. This is because, for a completely foreign language, there are chances when you end up not getting connected enough to the course or lack growing interest in it. For a highly paid course, in either of the cases, you either end up wasting money or simply drag it through because you have spent a bomb on it. And disinterest is the most harmful obstacle that can come in the journey of learning. Learning Japanese in just 5 minutes a day is one of the most cost-effective courses to learn Japanese online, featured by Duolingo. This platform not only makes your learning quicker but also helps you with translation practices.
Features:
Duolingo offers game-like lessons. So when you take the course, you won't actually feel like taking a serious course. Learning is more fun here.
Learning Japanese in just 5 minutes a day– this claim, although it raises a huge question on the pace of learning, offers equal flexibility with no added pressure on your already busy schedule.
Just a beginner or a rookie– Duolingo doesn't demand any background of the participant. All you need is your zeal, determination, and continuity.
Learning here includes reading, writing, and listening skills all in one. This results in your overall development of the language in no time.
2. Steps in Japanese for Beginners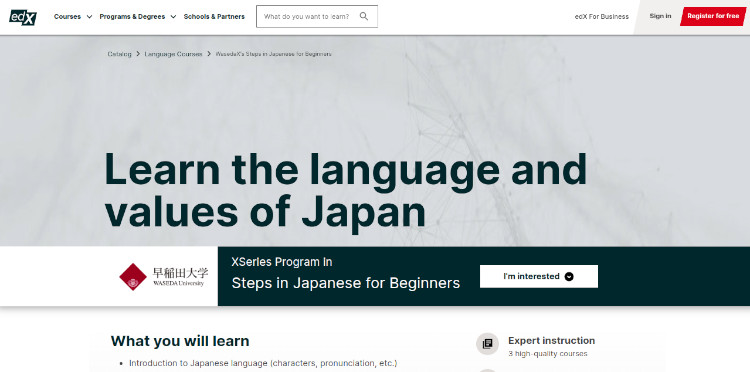 Edx.org is another important online learning platform that presents one of the best online Japanese language courses. The Steps in Japanese for Beginners online course on this forum is known for imparting lessons not only on the language but also on the values of Japan. In this course, one of the most significant things the trainee learns is the conversational skill in the language. Only knowing the characters, some words, and grammar won't help until and unless the participants learn the basic mannerisms that come with the language. The culture of a country is not restricted to its language but also transcends through the daily expressions used by its natives to convey unspoken words. This course specializes in overall grooming for the participants when it comes to learning Japanese online.
Features:
In addition to the reading and writing skills, your speaking skills are bound to grow with this course with lessons on pronunciation, accent, and diction of the language.
The course is divided primarily into three parts, each getting more advanced than the preceding one.
The beginning steps include meeting and greeting, while gradually, you would be able to ask questions and interpret more complex content.
This course not only contains video lectures and reading materials but also includes quizzes to make your learning experience interactive.
3. Japanese In Context – Elementary Japanese Course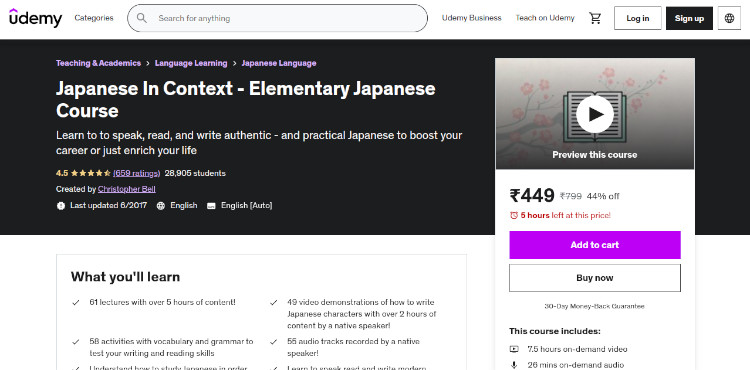 When online learning is concerned, Udemy can never fall behind. It's one of the most popular and effective online learning platforms that cater to the needs of a range of learners. Japanese In Context – Elementary Japanese Course on Udemy is definitely one of the best online Japanese language courses that any beginner can count on. This course not only focuses on the technical aspects of the language but also pays equal heed to the authenticity and practical approach that is required in the day to day life. The best part is they will teach you how to address the daily issues that one can face and how one should tackle them through Japanese. You might find it quite skeptical and wonder how on earth a language can fix daily life issues, but just then, remember one thing: communication brings in clarity, and clarity helps in identifying and solving issues in a very big way.
Features:
This course contains around 60 lectures with 5 hours of content as well as reading material.
Just gobbling up some words from a word list is not enough to enhance your vocabulary. And Udemy ensures you are into enough activities to level up your vocab and grammar through them.
While knowledge never goes unutilized, this course helps you to get very clear with your objective of learning Japanese.
The audio tracks recorded by a native speaker guarantee authenticity in pronunciation to the best.
4. Japanese through Immersive Learning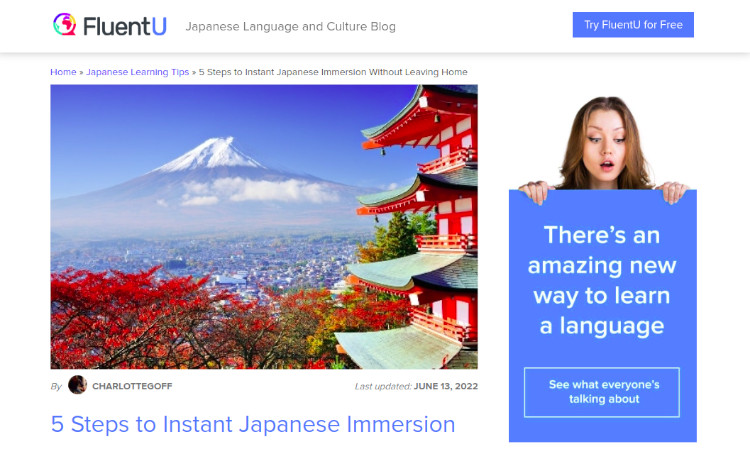 Immersive learning is a worldwide accepted new model of learning that has helped innumerable students in learning what they actually love with no travel expense at all. When it comes to learning different languages through immersive learning, FluentU is an ideal savior. It stands to be one of the most significant video-tutorial-based online learning forums which present the subject through videos based on real-life scenarios. It is needless to say that the videos include an introduction to the alphabet, numerics, and words of Japanese that almost all other coexistent online forums will offer. But what's different here is, in addition to such content, most of the videos include short clippings from Japanese drama, news recordings, movies, or even sports highlights. Through this, you can get a taste of the culture of the land at the very beginning of your learning experience.
Features:
Flashcards and quizzes dominate the section of activities, thereby making your journey more engaging and full of fun.
Although the platform has monthly or annual subscription plans, they also offer a free trial period for a limited duration.
The video clippings included in the course are provided with subtitles. So each and every word can be clicked on, and instantly you can find out the meaning.
5. Learn Japanese from the experts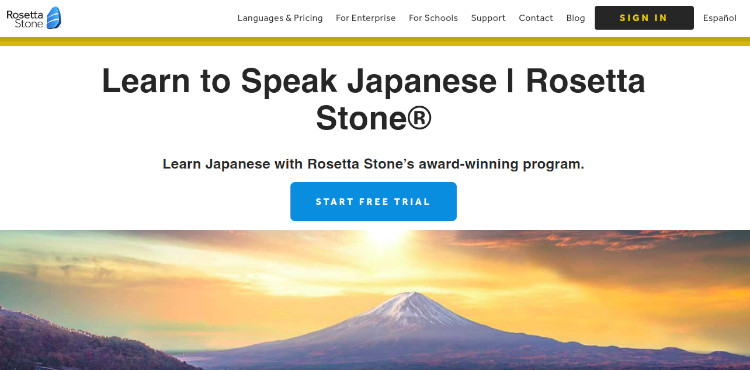 In case you are up for an intuitive learning system when you decide to learn the Japanese language online, Rosetta Stone is the platform that would suit you the best. Rosetta Stone not only concentrates on teaching the aspects of the language you can't do without but also works on a mission of surrounding the trainee with different elements of the language. Exploring new skills at a perfect pace– that kind of sums up the journey with the Learn Japanese from the experts' online course on Rosetta Stone. The best part of this course is that they deliver a lot of attention to individual learning. This would project instant rectification of your mispronunciations and flaws in intonations, which would otherwise digress you from perfection with time. The primary objective here is to make you learn Japanese just the way you learned your first language, commonly you're vernacular.
Features:
The content includes situations straight from the real world that involve mass activities, issues, and incidents.
They offer activities to make sure that you are on your mark with phrases in multiple contexts. 
Live coaching and audio recordings from native speakers are bound to enhance your learning path with authenticity.
Although Rosetta Stone has subscription plans for 3 months, 12 months, and a lifetime, they also offer a free trial period for a limited duration.
6. Learn Japanese Online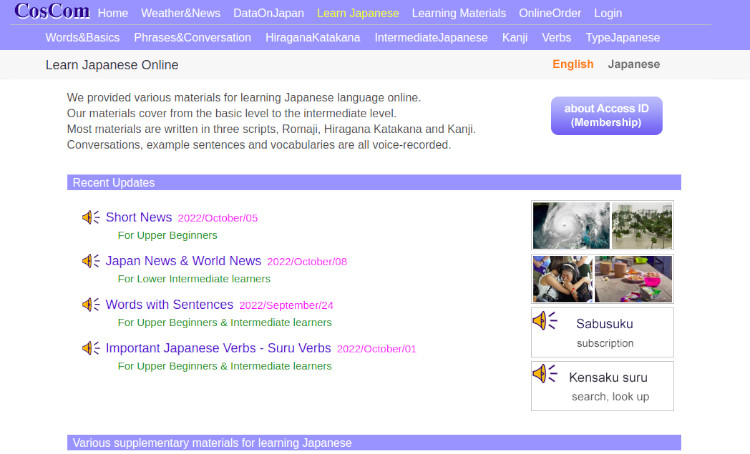 When the basics are clear, advance follows in no time. This will prove to be very true when you go through the Learn Japanese Online course on CosCom. Here, they provided reading materials for the absolute beginners, which helped the participants get groomed with a strong foundation in the technical aspects of the Japanese language. These learning materials gradually transition from beginner to intermediate level. CosCom focuses a lot on the scripts that are mostly in use in the Japanese language. Mostly there are three scripts that feature in the course: Romaji, Hiragana Katakana, and Kanji. They cover grammar, writing skills, and vocabulary all in their course.
Features:
CosCom focuses on the pictorial representation of the basics in Japanese, which makes learning even more fun for you.
The course categorizes Japanese words under sections of greetings, food, events, etc., making it easier to learn.
You get to learn a lot of Japanese phrases and their usage through recorded conversations.
In addition to the language, charts and other integral concepts are also included in the course.
The Kanji word list is featured with lots of activities to improve your vocabulary.
7. Learn Japanese quickly with Busuu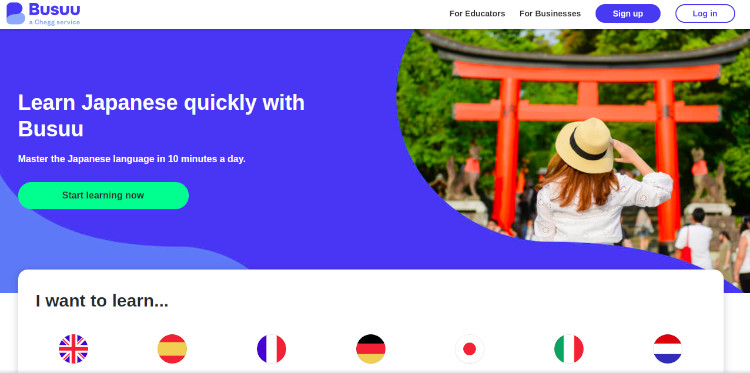 If the pace is what you are looking for, Busuu sounds to be the perfect online learning forum for you. Learn Japanese quickly with Busuu- an online learning program for beginners to learn Japanese that offers a nearly perfect structure for students from almost all sections of the world. Undoubtedly, the course is self-paced, with extremely smooth, user-friendly UI that can be utilized at any time of the day. From honorifics to particles, this course will cover everything for you. The advanced UI also enables the participants to practice writing and speaking on the go. The course is planned and organized well, which is suitable for the transition gradually from a beginner to a rookie and rookie to a pro.
Features:
Busuu offers you to create your own study plan for learning Japanese online based on your own timeline.
They send notifications and progress reports so that you can track how far you have come and how much more you need to buckle up in order to keep up with your own study plan.
Only mugging up Japanese phrases and expressions is not the idea: you also learn their usage through sentence making.
Busuu's conversation feature makes sure that you are in practice your spoken Japanese throughout the course.
The Bottom Line
The above-mentioned are some of the best Japanese Language courses that have gained popularity over time through trainee feedback and success rates. The idea here is not to confuse you with endless options on the platter but to enable you to identify what you require the most. So get set learning and all the best on your Japanese Language journey that hopefully will begin soon.
Whether you're aiming to learn some new marketable skills or just want to explore a topic, online learning platforms are a great solution for learning on your own schedule. You can also complete courses quickly and save money choosing virtual classes over in-person ones. In fact, individuals learn 40% faster on digital platforms compared to in-person learning.
Some online learning platforms provide certifications, while others are designed to simply grow your skills in your personal and professional life. Including Masterclass and Coursera, here are our recommendations for the best online learning platforms you can sign up for today.
The 7 Best Online Learning Platforms of 2022